Assistive Technology Services Helps Kevin Grow His Business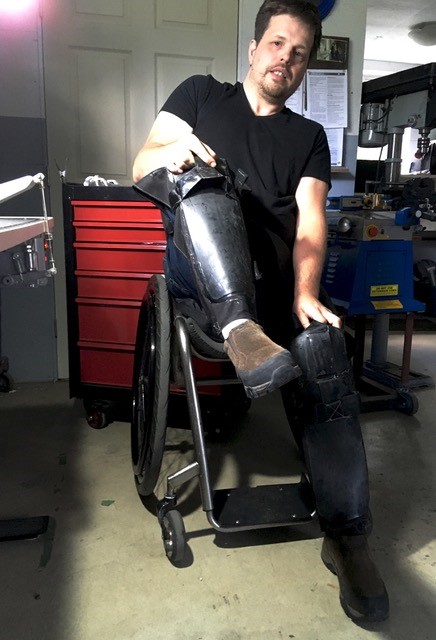 Kevin is a Maple Ridge based entrepreneur who has devoted his work to helping others.
With his company, Society Wheelchairs Ltd, he designs and manufactures custom wheelchairs — alleviating pain and other seating issues — for his clients. Para-sports are another aspect to his work, with Kevin developing protective equipment for adaptive climbing.
Assistive technology has "dramatically" improved his ability to do this work.
"I am a paraplegic. I also have severe autonomic dysreflexia. Some of my limitations are my balance because of my injury level. I do get exhausted fairly easily and my recovery time is long. I have to pace myself, plan my activities," he notes of the challenges he faces.
Through the Community Futures Entrepreneurs with Disabilities Program, Kevin found out about the WorkBC Assistive Technology Services program.
"It was a real pleasure working with the team," he says of Assistive Technology Services. "They assisted me with getting a large height adjustable work table and a specialized accessible sewing machine, as well as advice on setting up my computer work station and proper ergonomics to maximize my ability."
Kevin recommends Assistive Technology Services to others in need.
"I am able to continue moving forward with my business. The biggest changes are my work flow is becoming more efficient, as well as helping to improve workmanship. I feel much more confident," Kevin shares. "As well, the day to day pain, little struggles with the work space, we were able to address [that]."
WorkBC Assistive Technology Services is operated by Neil Squire. Assistive Technology Services are available to individuals who have a work-related barrier due to a disability or a functional limitation. This may include barriers related to traveling to and from the workplace.
Questions about WorkBC Assistive Technology Services? Need help applying? Contact us: 1-844-453-5506 or info-ats@workbc.ca
Please visit www.workbc-ats.ca for more information about WorkBC Assistive Technology Services.