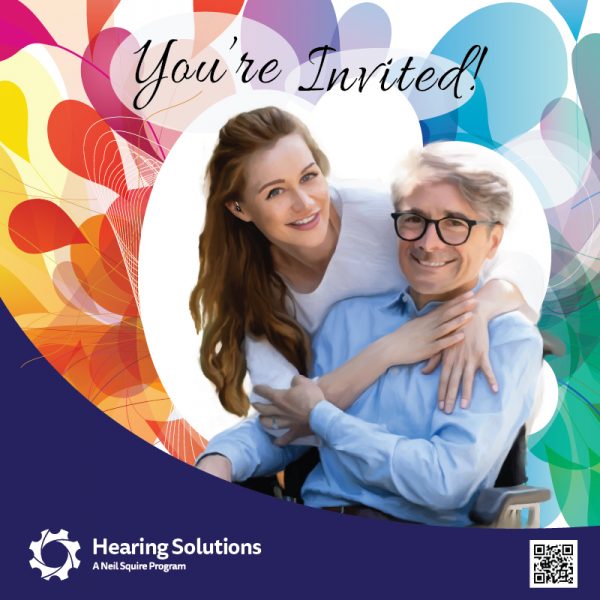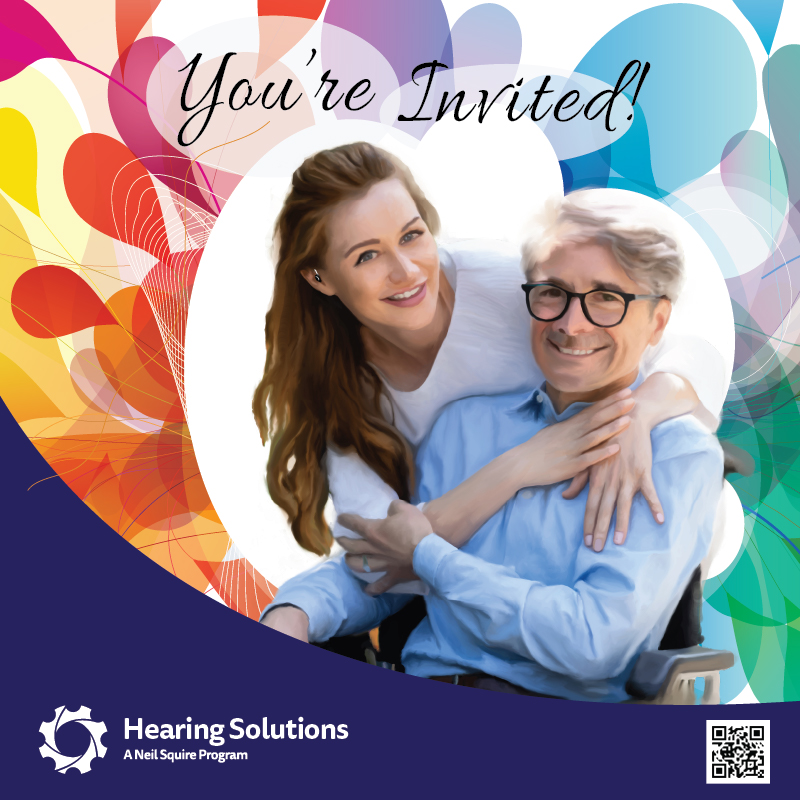 You're invited to our Neil Squire Hearing Solutions Grand Opening event on Thursday, September 15th from 2pm to 6pm. Delayed for the past two years due to COVID-19, we are pleased to be finally opening our doors to showcase our newest social enterprise. Join us for a ribbon cutting ceremony, speeches, food, and drinks, and find out what sets us apart from other hearing labs in the area.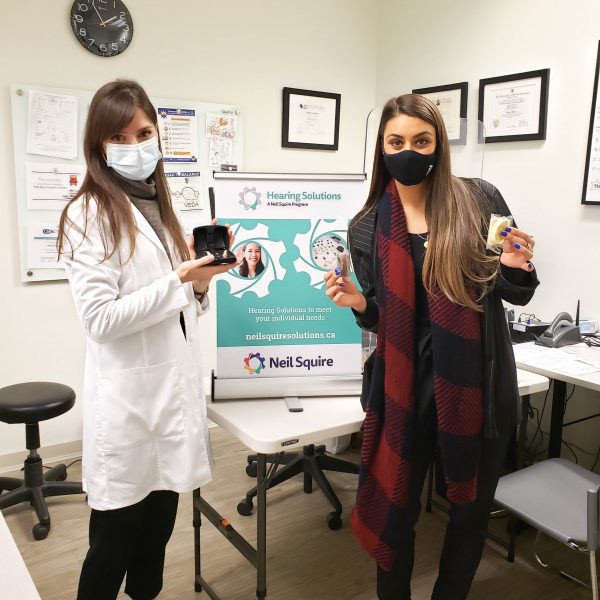 Manufacturer rep, Natasha Lombardo (right) is in our office all week joining Audiologist, Heather Ritchie (left) for our Hearing Solutions Demo Week. We're offering up to 30% off regular hearing aid pricing as well as a complimentary hearing assessment. If you haven't scheduled a one-on-one appointment yet, give us a call: 778-945-1215.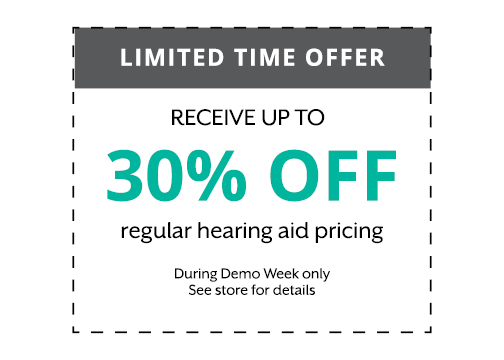 Join us for our Demo Week event and receive up to 30% off regular hearing aid pricing. 
COMPLIMENTARY hearing assessment
HUGE SAVINGS with our special event pricing
DEMO of our newest hearing technology!
We're bringing the expert to you!
See for yourself how the latest hearing aid technology works by talking to manufacturer rep, Natasha Lombardo. Along with our hearing professionals, Natasha Lombardo brings experience in the hearing healthcare industry that together gives us insight into the challenges that accompany hearing loss and access to the latest technology developments in hearing sciences.
Appointments are limited. Reserve your one-on-one appointment today!
Call: 778 945 1215
400 – 3999 Henning Drive
Burnaby, BC V5C 6P9
hearingsolutions@neilsquire.ca
Dedicated to the prevention and treatment of hearing loss, Hearing Solutions is a fully equipped hearing health centre offering compassionate and client centered service in the Greater Vancouver area. We welcome anyone with hearing related concerns.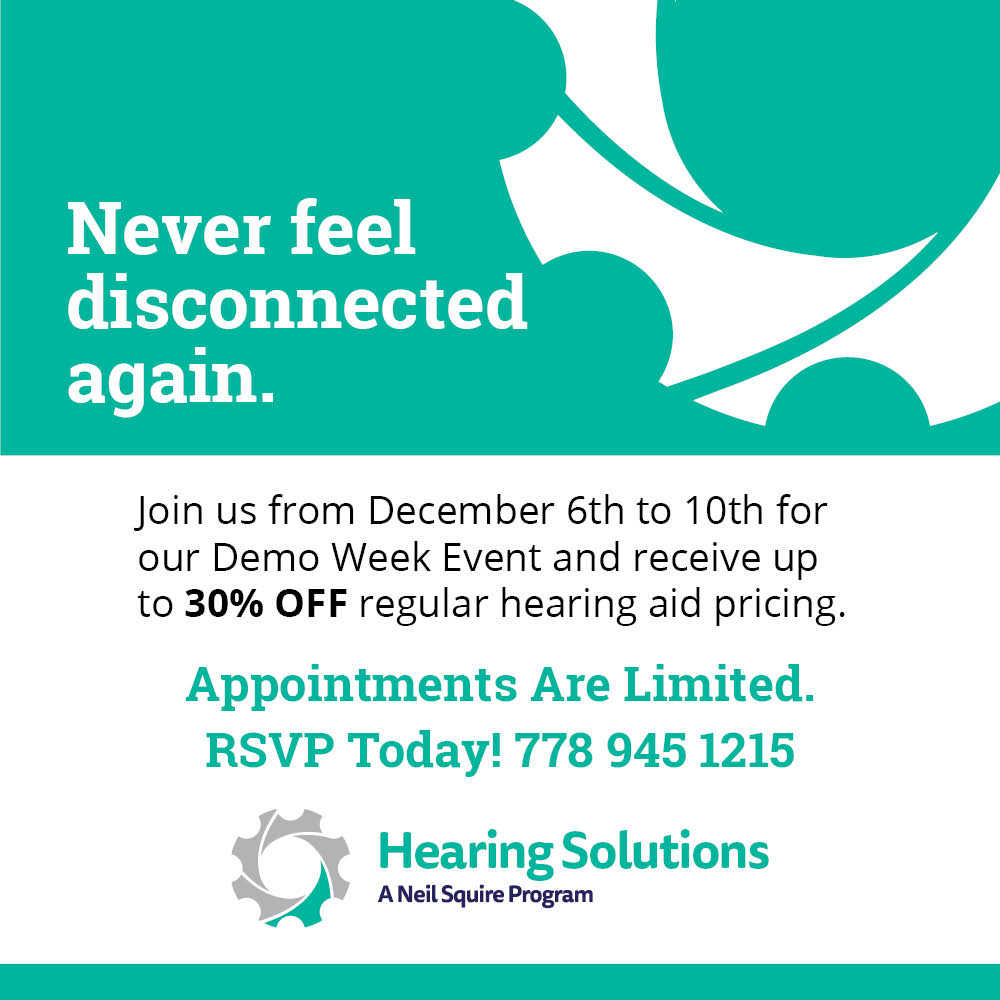 This discount is available during Demo Week only. See store for details.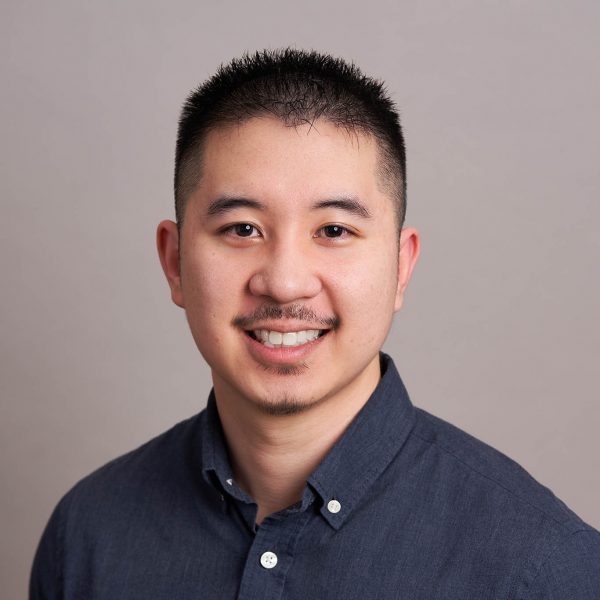 Eric Chau, MOT, CWCE, Reg. OT (BC)
Occupational Therapist
Eric Chau received his Bachelor of Kinesiology degree in 2017 and Master of Occupational Therapy degree in 2019, both from the University of British Columbia. Prior to and during his work as an Occupational Therapist, Eric has been greatly involved in academia, including graduate level teaching, presentations at research conferences, and is published as a first author in the American Journal of Occupational Therapy. His past occupational therapy experience includes working in private practice, performing functional capacity evaluations, worksite visits and return to work planning, ergonomic assessments and job demands analyses, work simulations, community rehabilitation, and case management. Eric is driven in his clinical practice to help promote maximum independence with clients by leveraging available assistive technology and innovative solutions to bridge gaps between functional ability, activity demands, and environmental affordances.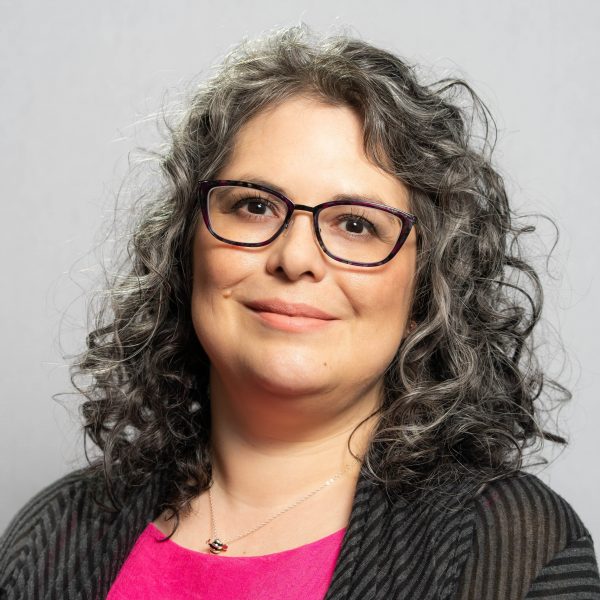 Claudia Maldonado completed her Bachelor of Science in Occupational Therapy at the University of Alberta in 1999. Claudia worked in public health care in the Fraser Health Authority and Island Health for the next for 18 years in various areas including acute care, acute neurology, Neonatal Intensive Care Unit, Orthopedics, and in two Intensive Inpatient Neurological Rehabilitation Programs. In 2017, Claudia started working in private practice providing occupational therapy services and case management to individuals with a variety of health conditions. Claudia joined the coveted Neil Squire family in 2019 when an office was opened in Nanaimo. Claudia thrives in assisting clients independently return to various productivity roles through the use of assistive technology and ergonomics.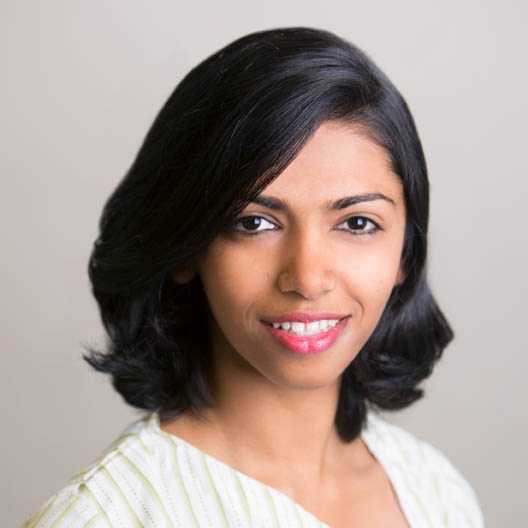 Khatidja Malick
Digital Technology Specialist
Khatidja teaches individuals basic digital literacy skills on phones and computers while using assistive technology. Her expertise is working with people with vision disabilities ranging from low vision to complete vision loss. She's also interested in website and document accessibility. With Solutions, she assists with software trials and training.
She obtained her Bachelor's degree in Technology from British Columbia Institute of Technology, and is certified trainer for JAWS, a screen reader program that helps individuals with no vision use the computer.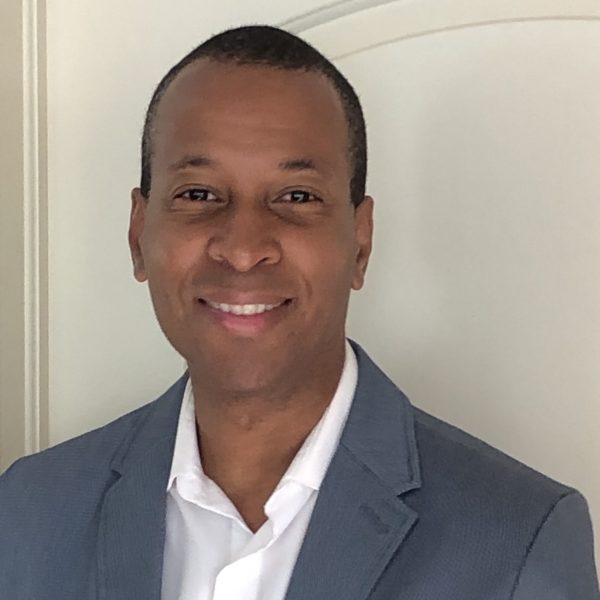 Alain Désir, MSc. OT (Reg NB), M.Biomed.Eng.
Occupational Therapist
Alain joined Neil Squire in 2018 as the organization's first Occupational Therapist on staff in the Atlantic region. Alain has held a variety of positions in the health field as a case worker for individuals with mental health disabilities, as an OT in homecare, and as a clinical specialist in telehealth. Alain has also worked in the pharmaceutical industry as a biomedical engineer. Alain enjoys working with people and technology. He says that "working with the Neil Squire gives me the opportunity to combine these two interests of mine".
Alain Désir, MSc Erg (Enr. NB), M.Gen.Biomed.
Ergothérapeute
Alain s'est joint à Neil Squire en 2018 comme le premier ergothérapeute de l'organisation dans la région Atlantique.  Alain a détenu des postes dans le domaine de la santé comme travailleur communautaire en déficience intellectuelle, comme ergothérapeute en maintien à domicile, et comme spécialiste clinique en télésanté. Il a aussi évolué dans l'industrie pharmaceutique comme ingénieur biomédical. Alain apprécie travailler avec les gens et avec la technologie. Il atteste que travailler à Neil Squire lui donne l'opportunité de combiner ses deux intérêts.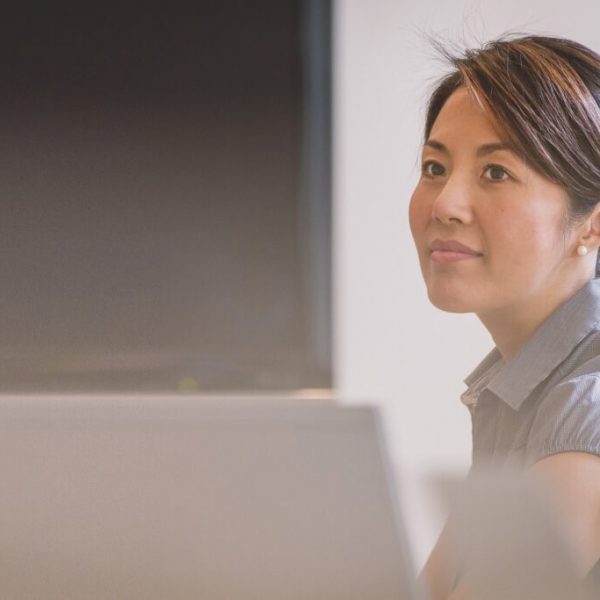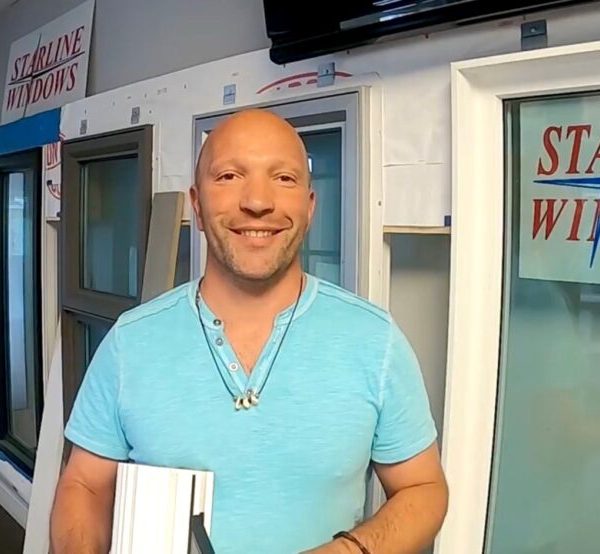 Tony is the General Manager of Starline Windows Okanagan, a company he has been with since 1986.
Dealing with his staff, colleagues, and hundreds of customers in the construction industry, effective communication is key. However, Tony has hearing loss in both ears, with severe tinnitus in his left ear.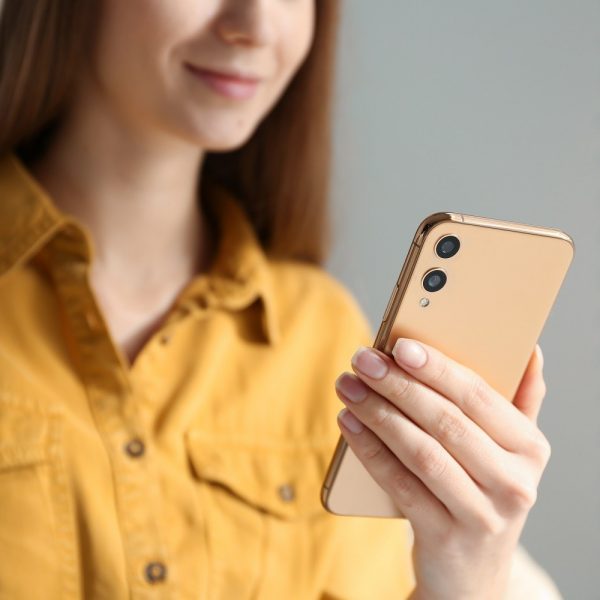 With COVID-19 conscious social distance protocols being enacted around the world, many teachers and parents are moving towards a digital approach to education. And with so many free teaching apps on the market, there are plenty of different tools to choose from when it comes to teaching in an online/home-based environment. When it comes to lesson planning and scheduling in particular, there are many advantages to taking the digital approach.