"My Life Has Become Easier in So Many Different Ways," Shayne's Wheelchair Converted Minivan Makes Commuting to Work a Breeze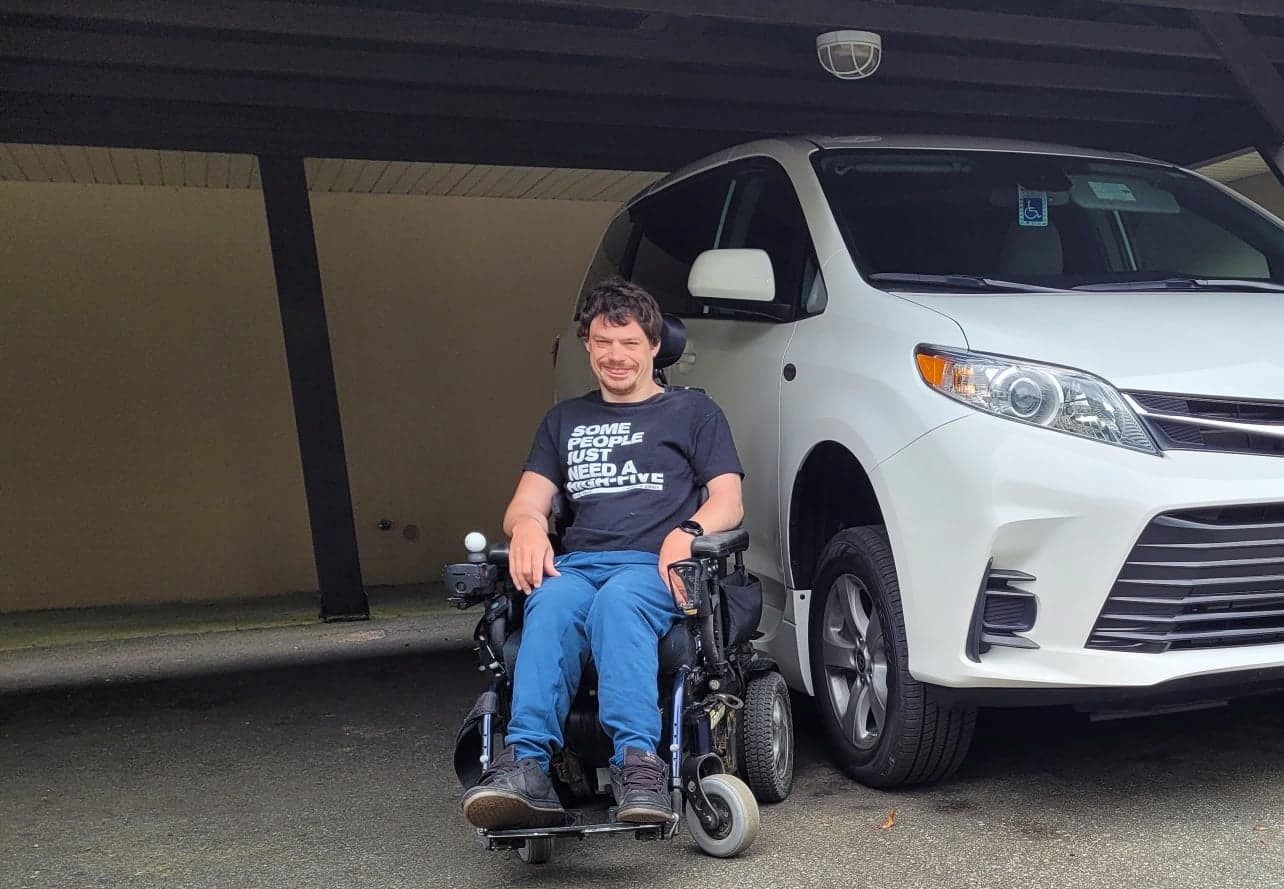 A community support worker with the North Shore Disability Resource Centre, Shayne has Spastic Quadriplegia, a form of Cerebral Palsy, and uses a power wheelchair. However, without proper vehicle accommodations, it was hard for him to get around with his power wheelchair.
"A lot of times I wouldn't be able to bring my power wheelchair as it's way too heavy for someone to pick up to put in their car or van. As I have multiple chairs, I would have to figure out how I would transport all of them in order to complete my daily tasks," he says.
Through the My Self Serve portal, and as a previous client of WorkBC Employment Services, he learned about WorkBC Assistive Technology Services. He decided to apply.
"The Assistive Technology Services Program helped me to get a fully modified wheelchair accessible vehicle by assisting me with funding for the conversion of the minivan," he shares.
His converted 2020 Toyota Sienna has made his workday a lot easier.
"My life has become easier in so many different ways," Shayne says. "It helps me to get to and from work without the need for someone to help me get in and out of my wheelchair.
"With the assistance of a wheelchair accessible vehicle my ability to travel safely becomes way safer and quicker to get to and from work without worrying about my surroundings."
Instead of needing "to find alternative travel arrangements," as he did before, commuting to work has become a breeze for Shayne.
"I would definitely recommend the Assistive Technology Services program to others," he shares. "The program helped me out a lot and the occupational therapist that was assigned to my case was super supportive, and understood my wants and needs along the process."
---
WorkBC Assistive Technology Services is operated by Neil Squire. Assistive Technology Services are available to individuals who have a work-related barrier due to a disability or a functional limitation. This may include barriers related to traveling to and from the workplace.
Questions about WorkBC Assistive Technology Services? Need help applying? Contact us: 1-844-453-5506 or info-ats@workbc.ca
Please visit www.workbc-ats.ca for more information about WorkBC Assistive Technology Services.

Tags: assistive technology, WorkBC Assistive Technology Services