Shruti is "excelling at work" with WorkBC Assistive Technology Services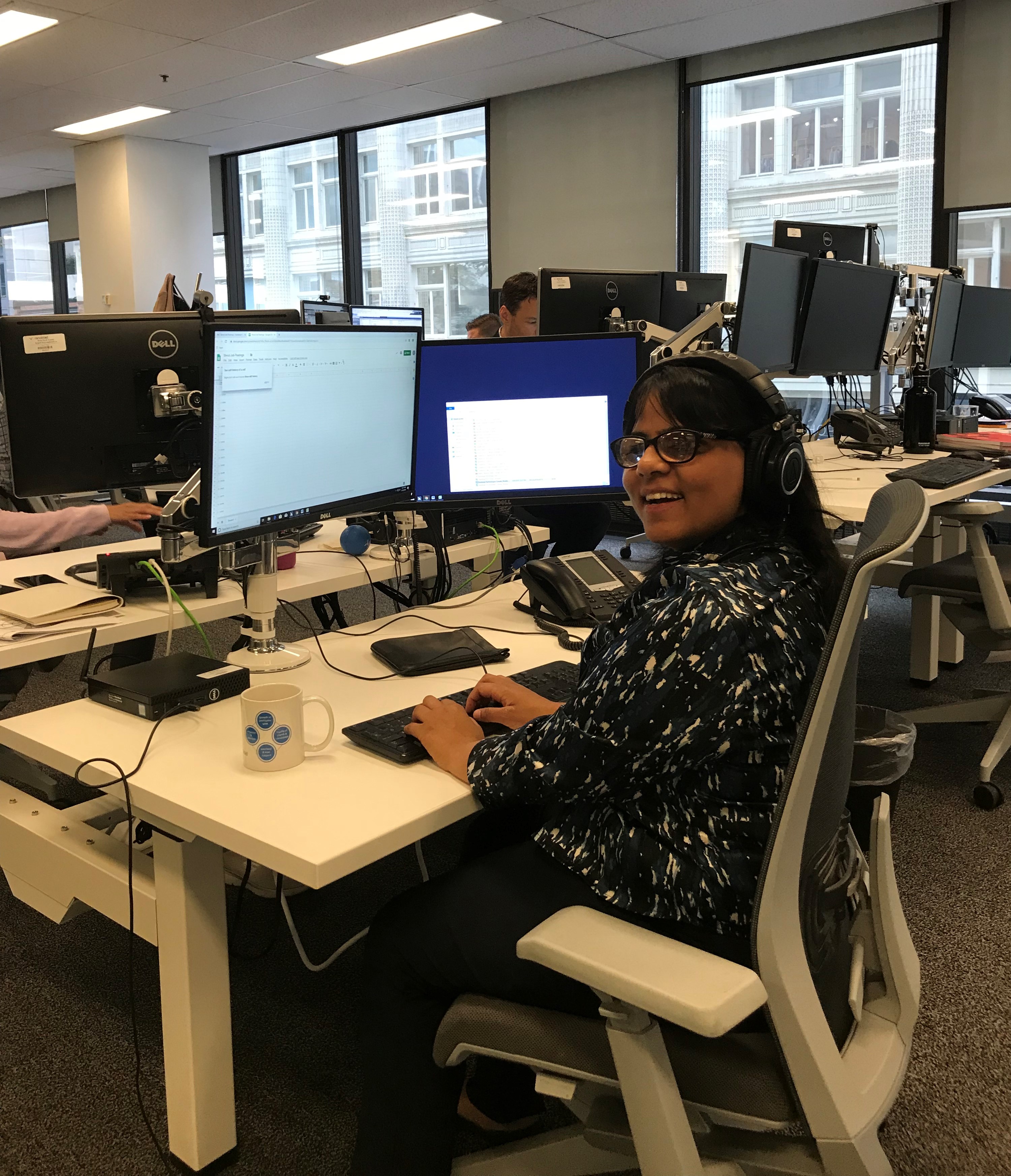 Shruti, of Richmond, is "truly grateful" for the WorkBC Assistive Technology Services program.
"Thanks to the Assistive Technology Services program I am excelling at work! Not only am I able to perform my job responsibilities, my hard work has made an impact," she exclaims. "My contract, which was originally for three months and meant to end in mid August, was extended another three months!"
Shruti is visually impaired. As a result, she cannot read and write print, and requires a screen reader to use a computer.
After graduating from university, Shruti found work as a Candidate Care Consultant at an international recruitment company. Her many duties include refining and posting job descriptions from clients to web job platforms, filtering prospective applicants, as well as helping successful applicants throughout their contracts.
Needless to say, it's a lot of computer work.
However, having found employment, she was eligible for a grant from WorkBC Assistive Technology Services to purchase the most recent edition of a screen reading software called Job Access with Speech (JAWS).
"Without this program, I would not be working at my current place of employment. JAWS is a very expensive software, and so the Assistive Technology Services program's financial assistance in purchasing this software was a major help to me," she says.
"I am also pleased with their post-services as well. The various calls I have received to check on how I am doing at work and how JAWS is working are much appreciated. It truly shows that Assistive Technology Services care about their clients and are available even after the initial service of providing the necessary accommodations has been fulfilled. I know that the Assistive Technology Services Program will continue to help many more individuals acquire and sustain employment."
Shruti doesn't hesitate to recommend the service to others.
"I would definitely recommend the Assistive Technology Services Program," she says. "Being able to use a computer is a necessity in today's employment world, and the Assistive Technology Services Program is doing an amazing job of making this technological world accessible to those of us for whom it would be inaccessible without the software this program provides."
WorkBC Assistive Technology Services is operated by Neil Squire. Assistive Technology Services are available to individuals who have a work-related barrier due to a disability or a functional limitation. This may include barriers related to traveling to and from the workplace.
Questions about WorkBC Assistive Technology Services? Need help applying? Contact us: 1-844-453-5506 or info-ats@workbc.ca
Please visit www.workbc-ats.ca for more information about WorkBC Assistive Technology Services.

Tags: assistive technology, WorkBC Assistive Technology Services