"The Help that this Program Has Given Me is Far Beyond What I Had Even Hoped."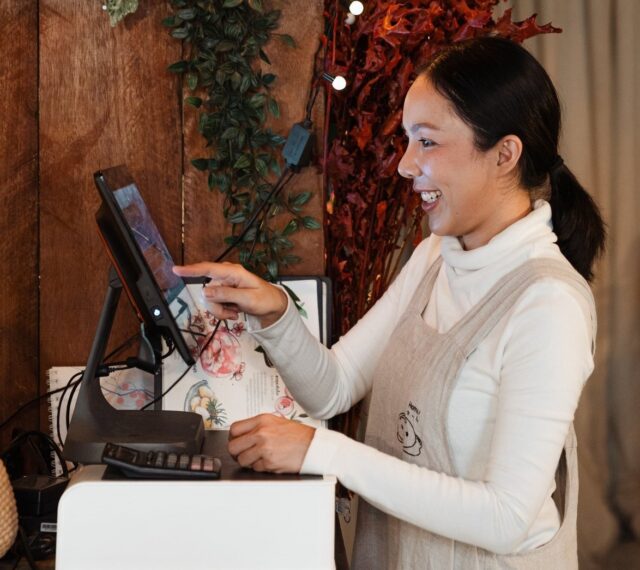 Marguerite is a cashier at a grocery store in 100 Mile House.
"I have to talk to a lot of people," she explains. "I have significant hearing loss. In today's current climate where customers are wearing masks and I'm working behind plexiglass, I was having difficulty hearing people or not hearing them at all."
A friend who had been through the program recommended she try WorkBC Assistive Technology Services.
Marguerite applied and was able to get hearing aids.
"The help that this program has given me is far beyond what I had even hoped. I have received new hearing aids through this program. I didn't even understand until I got them how much I wasn't hearing. I feel far more comfortable at work," Marguerite shares.
"It's questionable whether or not I would have been able to continue working [without hearing aids]. Talking with customers is a big part of my job and that was getting increasingly difficult. As a result, my job is far more enjoyable and I am far more connected to my surroundings."
Marguerite has nothing but praise for the program.
"I would definitely recommend this program to others. Everyone that I spoke to or emailed with in this program were so very helpful," she says. "Needless to say, the changes have been absolutely amazing and positive, and I am very, very thankful."
WorkBC Assistive Technology Services is operated by Neil Squire. Assistive Technology Services are available to individuals who have a work-related barrier due to a disability or a functional limitation. This may include barriers related to traveling to and from the workplace.
Questions about WorkBC Assistive Technology Services? Need help applying? Contact us: 1-844-453-5506 or info-ats@workbc.ca
Please visit www.workbc-ats.ca for more information about WorkBC Assistive Technology Services.

Tags: assistive technology, WorkBC Assistive Technology Services