Save the Date! Neil Squire Hearing Solutions Grand Opening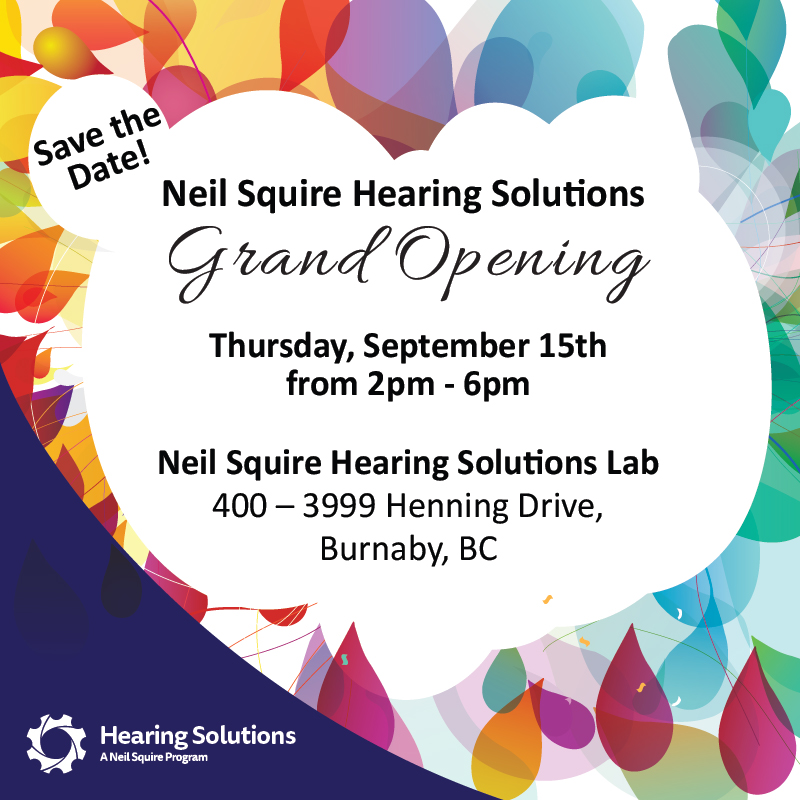 Save the date! We will be holding our Neil Squire Hearing Solutions Grand Opening event on Thursday, September 15th from 2pm to 6pm. Delayed for the past two years due to COVID-19, we are pleased to be finally opening our doors to showcase our newest social enterprise. Join us for a ribbon cutting ceremony, speeches, food, and drinks, and find out what sets us apart from other hearing labs in the area.
What: Neil Squire Hearing Solutions Grand Opening event
When: Thursday, September 15, 2022 | 2:00pm to 6:00pm
Where: Neil Squire Hearing Solutions Lab, 400-3999 Henning Drive, Burnaby, BC
This event is open to anyone with hearing related concerns, or those who would like to learn more about Neil Squire Hearing Solutions.
Did you know that hearing tests, ear wax removal, and hearing aid consultations are always free? And as a non-profit organization, we're able to offer the newest advances in hearing aid technology at a price that is affordable to most people. Through grants and subsidies, we can reduce the financial barriers that will often prevent someone from getting hearing aids if they need them. If you or someone you know could benefit from these free services, please call 778 945 1215 or visit our website for more information: https://www.neilsquiresolutions.ca/hearing-solutions/.
Event registrations details will follow in the next few weeks.