An Assistive Technology Breakthrough for Blind Professional Engineer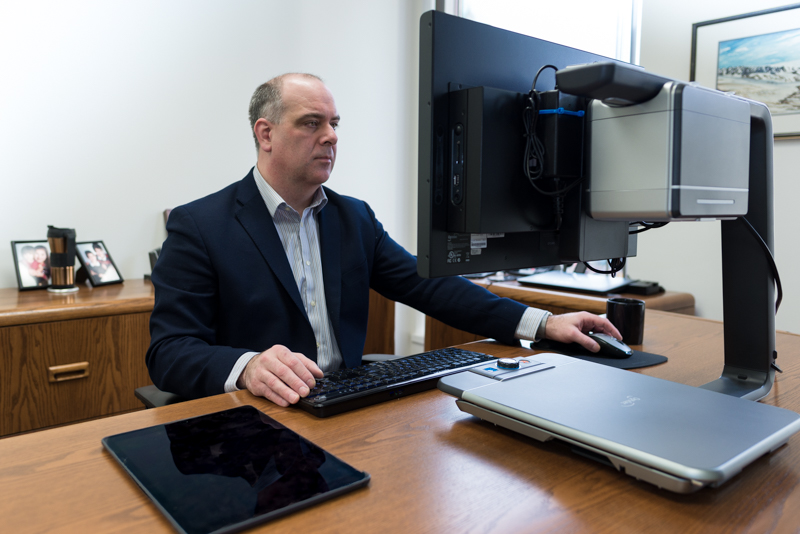 Grant Pearson, a Professional Engineer and the Vice President of Business Development for an arctic construction company, lives with an inherited, degenerative eye disease called Retinitis Pigmentosa.
Grant had 20/20 vision when he first noticed symptoms of the disease ten years ago, but is now legally blind. "I can't read without some sort of assistance, I can't read my own handwriting, I can't see people's faces, can't drive," he says. "There are limitations around what I can do and what I can see."
Despite his disability, Grant maintains his demanding job. "I travel around a lot to various jobsites. In Canada, we work mostly in the Northwest Territories, Nunavut, Saskatchewan, Ontario," says Grant. "We build all-weather access roads. We do contract mining, airstrips, industrial site development."
Grant knew that he required assistive technology to help him continue to work effectively, so he went to the CNIB and a low vision clinic in Vancouver. "I had a look at the assistive technology devices that they had," says Grant. "Some of them were very expensive."
The CNIB referred Grant to the Neil Squire Society's Technology@Work program, which supports people who have a work related barrier due to a disability or a physical limitation and who require Assistive Technology for employment or volunteer activities in British Columbia.
"He was pretty certain about the product that he was interested in," says Technology@Work Occupational Therapist, Katrina Tilley, who worked with Grant. "He didn't feel he needed to look at other options." Grant had singled out the Optelec Desktop Video Magnifier as a tool that could assist him with his work, and the Technology@Work program was able to help fund the device through a cost sharing agreement.
"It's extremely broad," says Katrina of the types of barriers they see in the program. "It can be anything from someone just needing an alternative mouse to access a computer, to someone needing vehicle modifications, which would be fairly extensive."
When asked what motivates her on the job, Katrina responded: "Just seeing the changes that can happen when people receive assistive technology, and that it opens those doors for them to become productive or remain productive. I love it, because you're working with people one-on-one, who are very grateful for getting the support that they receive. It's just very rewarding seeing people carry on the things they love to do."
The team of Occupational Therapists and Assistive Technology Professionals at the Neil Squire Society stay up to date on the latest technologies. "We attend conferences, we do continuing education, and webinars," says Katrina. "We get vendors in, bringing products, we read a lot."
For Grant, the turnaround time for getting his new technology was short. "Which was excellent," says Grant. "It wasn't a long, drawn-out process getting approved. Decisions seemed to come very quickly. It was generous in terms of cost of the device."
"He's just a hard-working British Columbian who is facing a barrier," says Katrina of Grant. "He didn't want to make a big deal about it. He just wants to carry on and do his work."
For Grant, obtaining the desktop video magnifier was a breakthrough. "I can read my own handwriting. I can take anything that's on printed material and read it myself because I can blow it up with the video magnifier," he shares. "It eliminates people having to help me."
If you or someone you know in British Columbia could benefit from the Technology@Work program please call 1.844.453.5506 or visit www.BCTechAtWork.ca. This article originally appeared in the Spring 2017 issue of Abilities Magazine.