An "Extremely Liberating Experience" for Marco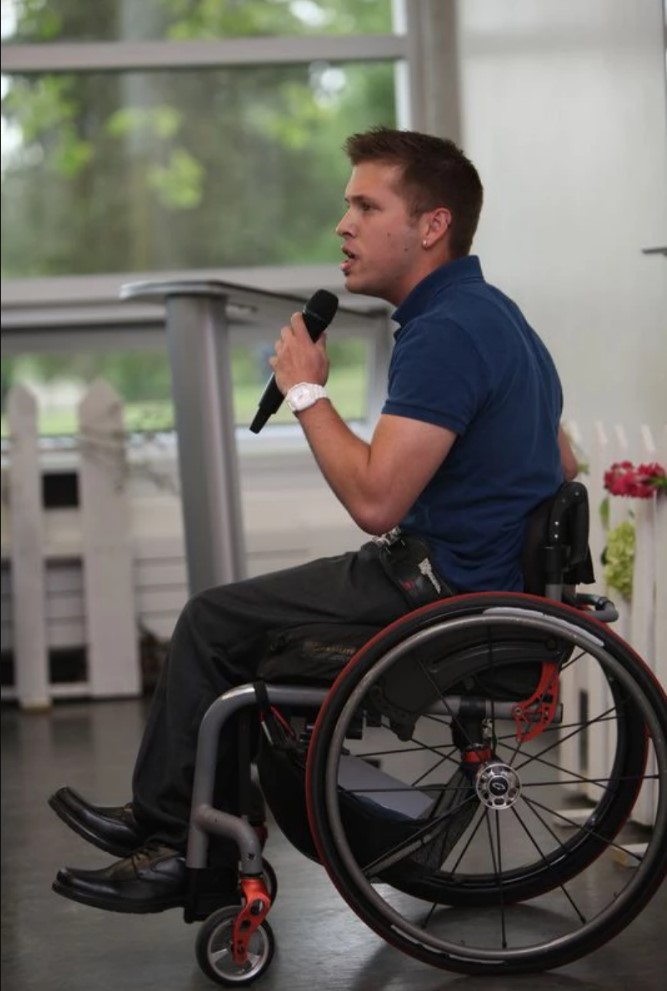 For the past six years, Marco has been running his own business as a motivational speaker. Last year, he began a contract as an Accessibility and Inclusion Consultant with the Presidents Group, a network of business leaders focused on increasing employment for persons with disabilities across British Columbia.
"I do a lot of keynotes, presentations; I speak at a lot of panels," he says. "I'm honoured to take my speaking ability as a presenter and utilize that in a role as an accessibility consultant with the Presidents Group on a two-year term. It's been a really exciting role so far."
Marco was diagnosed with spastic cerebral palsy with triplegia at birth, which affects his legs and right arm. "I choose to use a manual wheelchair to get around," he says. "As a result of using the wheelchair, though, it requires me to use [public] transportation, whether that's a bus or SkyTrain."
Along with having to carry around his projector and other equipment on public transit, Marco found he was turning down clients who were not a convenient distance from him.
He was already aware of the Technology@Work program. It was reinforced by Nate Toevs, Employer Outreach Developer at the Neil Squire Society, who sits with Marco on the Measuring Up Committee in the City of Surrey. Nate suggested that Marco may be eligible for funding towards modifications to his vehicle.
The Neil Squire Society operates the Province of British Columbia's Technology@Work program that provides people with disabilities access to assistive technologies they need for employment, often at no cost to the client.
After an assessment with Technology@Work, Marco went through GF Strong's Driver Rehabilitation program. "They did a basic assessment of the type of hand controls that I might need should I have them installed in my vehicle," explains Marco. "The funding, thanks to the Neil Squire Society, not only helped to pay for the adaptions to our vehicle, but also helped us supplement the costs of the lessons. Having that additional financial support made a world of a difference to me."
Marco received hand controls for the vehicle he shares with his wife, along with a parking brake extension and convex mirrors. "I could actually drive for the first time in my life, at 33 years old, in our vehicle, which was an extremely liberating experience."
The vehicle modifications have already started making a difference in Marco's professional life. "It's helped to boost my confidence and my ability to say yes to clients I wouldn't normally have had said yes to. I'm actually able to see more people and be able to go out and be involved in my community a lot easier as a result of having these adaptions to my vehicle. Without the support of the Neil Squire Society, I wouldn't be able to do that. It's truly changed my life."
Marco says he would recommend the Technology@Work program "in a heartbeat". He adds: "I think a lot of people are still looking for options and support from organizations that will truly be there for them so that they can have gainful employment. I can say for a matter of fact the Technology@Work program has done that for me and I would easily recommend it to anyone who is looking for support.
"The staff has just been super fantastic about it and very friendly. So it's not just about the equipment received, but it's also about the customer service experience. I was never made to feel less than. I was always made to feel like, what can they do to elevate my life and where I want to go, and that's why it's an easy recommendation from me. And I really also appreciate the check-ins and checkups… It doesn't just stop once I receive the equipment."
At the Presidents Group, Marco hopes to continue his phenomenal work encouraging employers to hire people with disabilities. "It educates employers that it doesn't have to be difficult when you have a person with a disability join your workforce, that there are partners out there that are willing to work with them to get them to the next stage of their career."
Visit Marco's website: www.marcopasqua.com and follow him on Twitter to see the inspiring work he's doing.