Assistive Technology Helps Melanie Work Virtually During the Pandemic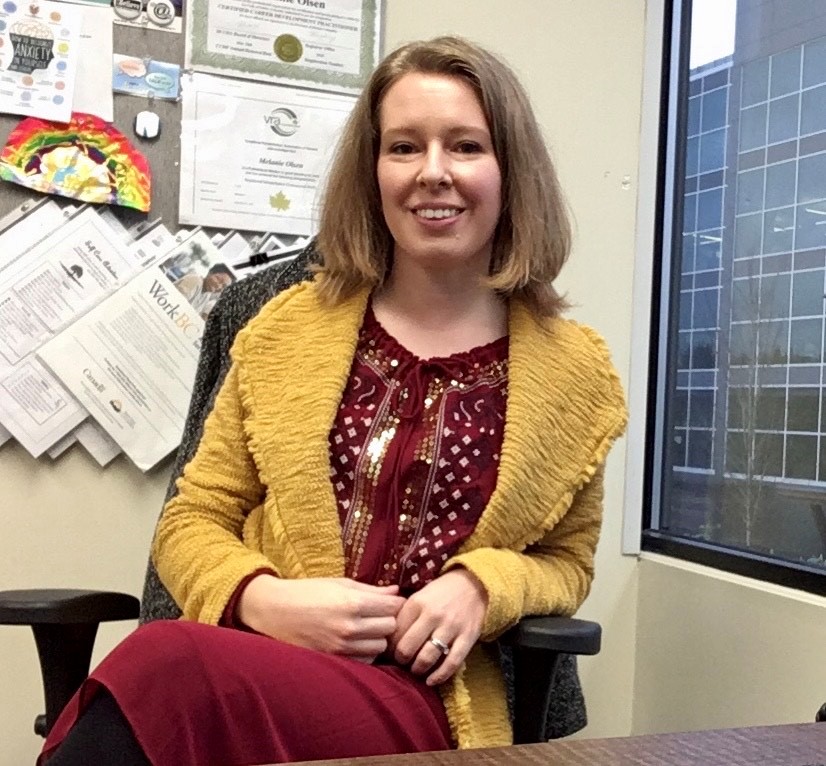 Melanie is a specialized employment counsellor based in Campbell River. She helps people with disabilities and mental health impacts find sustainable employment.
"I believe with the right fit, technology, and natural supports comes great opportunities for meaningful employment for all people with disabilities," she explains.
While Melanie works hard on behalf of others, she knows the importance of her work from firsthand experience — she has significant hearing loss in both ears and often reads lips.
However, she was finding it hard adjusting to her new way of working amidst the pandemic.
"I love working with people and supporting their goals, usually face to face in an office appointment setting. Due to the COVID-19 pandemic, the majority of our services became virtual by phone or online video conferencing platforms," she shares. "My hearing impairment became a big barrier that I had not anticipated when my work environment shifted to virtual service delivery.
"The natural workplace accommodations I had in place just were not cutting it in a virtual world. I needed updated technology that was compatible with video conferencing, telephone appointments and mask wearing to continue to do my job well."
Having referred many of her clients to WorkBC Assistive Technology Services, she decided to check it out for herself.
The WorkBC Assistive Technology Services team was able to find her a number of helpful accommodations.
"I am so grateful for the updated technology of Bluetooth compatible hearing aids to help with facilitating meetings both by phone and via online platforms, as well as a Bluetooth monitor for my workstation so sound can go directly from the computer to my hearing aids. The updated hearing aids and partner mic make it easier to hear people with masks on due to Autosense technology and a remote-control app right on my cell phone for custom adjustments."
The new accommodations have made the work day a lot easier for Melanie.
"The world is suddenly a whole lot louder, in a good way!" she says. "My overall stress level has decreased considerably due to the quality and level of adaptability in the hearing aid technology I received. It has allowed me to hear clearly in my workplace."
Melanie doesn't hesitate to recommend Assistive Technology Services to others in need.
"10/10 would recommend! Thank you for this valuable service and all the support along the way!"
---
WorkBC Assistive Technology Services is operated by Neil Squire. Assistive Technology Services are available to individuals who have a work-related barrier due to a disability or a functional limitation. This may include barriers related to traveling to and from the workplace.
Questions about WorkBC Assistive Technology Services? Need help applying? Contact us: 1-844-453-5506 or info-ats@workbc.ca
Please visit www.workbc-ats.ca for more information about WorkBC Assistive Technology Services.

Tags: assistive technology, BC, WorkBC Assistive Technology Services