Ben's Ability to Work Improves with Technology@Work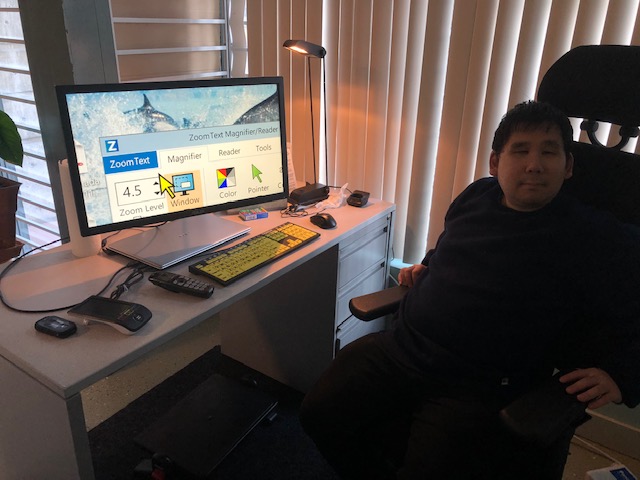 "About three years ago, I lost my eye," says Ben. "It was my good eye. That's what prompted me to not do any more work. I've had a visual impairment most of my life, but it got worse."
After two years of not working, Ben landed a job at a non-profit fraternal benefits organization called Knights of Columbus, which is attached to his church. He manages customer service for members throughout the Lower Mainland and Vancouver Island. He interacts with members by phone and email to resolve their issues. He also helps out with some light office administration work.
"I've worked in different industries: everything from telecom and security to paralegal, sheriff services, and dispatch," says Ben. Having worked for over 12 hours a day at some of his prior jobs, he enjoys the flexibility of his current job.
Ben learned about the Neil Squire Society's Technology@Work program from Dr. Jackson of the Low Vision/Rehab Centre, as well as from the Canadian National Institute for the Blind (CNIB).
The Neil Squire Society operates the Province of British Columbia's Technology@Work program that provides people with disabilities access to assistive technologies they need for employment, often at no cost to the client.
Although Ben was hesitant at first, not sure whether he would qualify, he went ahead and decided to apply to Technology@Work. He had used ZoomText earlier, so he figured that all he needed was the latest version of ZoomText and a new magnifier.
Soon, Technology@Work staff visited Ben to assess his work site. He also visited the Burnaby office to meet an occupational therapist and try out some items in the Assistive Technology Lab. Finally, he received funding towards a customized orthopedic chair, a large monitor, a monitor arm, and ZoomText.
"It fits for my use and it actually works out and serves me well," explains Ben. "It's very comfortable here in the office. A lot of the times when I do emails, I do them here and not at home."
After receiving this equipment, Ben has noticed his work environment at the office is more conducive to his needs. "It improves my ability to work greatly, because you can actually see and do things. I never had this earlier – I had purely ZoomText. One advantage is a bigger screen, so you can actually see things and have a much wider field. I wasn't aware that it was something I could get. It's certainly made the working experience much better."
For people in a similar situation to him, Ben recommends, "Just apply. You might not think you qualify, but that doesn't mean the program thinks so too. It doesn't hurt to apply."
"With this program, you are able to go to work. And that's a big thing. Because if people don't go to work, they don't feel useful," says Ben about his experience with Technology@Work. "Maybe this program can help change attitudes about people with disabilities – that they can work."