Donna Enjoys More Comfort and Productivity with Technology@Work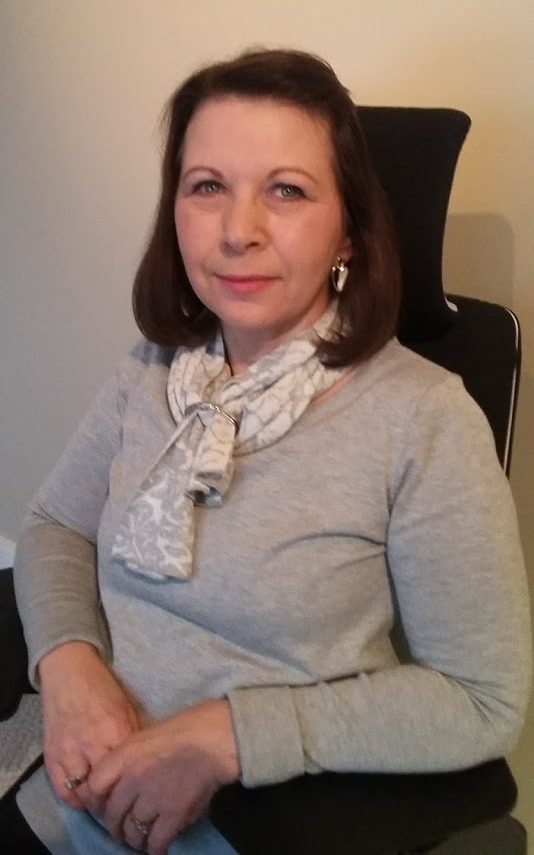 Donna was involved in two motor vehicle accidents nine years apart. Both incidents contributed to significant upper neck and back injuries and frequent migraine headaches.
In the past, Donna worked as a part-time Medical Office Assistant, where being on the phone and typing simultaneously was a painful task. Repetition, ill-fitting chairs, or static posture would intensify her pain. "My days off were often spent incapacitated with stress-induced headaches. Life being like a 'yo-yo' forced me to accept the problems of being employed," she says.
Donna met a staff member from the Neil Squire Society at a function for the Canadian National Institute for the Blind, where she volunteers. The staff member told Donna about the supports that were available through the Technology@Work program.
The Neil Squire Society operates the Province of British Columbia's Technology@Work program that provides people with disabilities access to assistive technologies they need for employment, often at no cost to the client.
Once she applied to the program, Donna was assessed by Technology@Work occupational therapists.
In addition to her volunteer position, Donna works from home as a general or medical transcriptionist. She converts speech into text from digital audio recordings of one-on-one interviews or focus groups for research projects at various universities.
Through the Technology@Work program, Donna received a variety of ergonomically assistive devices to help her out at work, including: an adjustable office chair, an ergonomic keyboard, an adjustable keyboard tray, an adjustable ambidextrous clamshell mouse, and a monitor arm.
Donna recalls, "With the office equipment that I had prior to joining the Neil Squire Society, I was only able to accomplish 2-3 hours of work before developing an unrelenting headache that took me away from transcribing."
Since receiving these assistive technologies, Donna shared that she is experiencing "a huge improvement in my workability, endurance, and comfort, resulting in increased productivity. Once I started using this equipment, working hours just flew by. I am now able to carry on with other activities following my transcription work. My mind is clearer, and I no longer have to 'sleep the stress and pain away' for the remainder of the days."
Prior to receiving this ergonomic equipment, Donna had been hesitant in transcribing focus groups for clients, instead only accepting one-on-one interview transcription contracts. She frequently turned job opportunities away as she described this nature of work to be "so intense it causes too much pain". Focus group transcription involves significant concentration and static posture.
Not long after working with her new equipment, Donna decided to give a focus group transcription a trial run. "I was shocked at how easy it was to transcribe that focus group!" she remembers. "Even though it was a three-person interview, I failed to make the distinction between how I felt after transcribing that interview and how I felt after transcribing the one-on-one interviews. As a result, I now offer focus group transcription to my clients."
Donna "highly" recommends the Technology@Work program, and adds: "I am so grateful to the Neil Squire Society for being such a positive support for me. I'm very happy to have met the awesome team players within this organization. They have all been very helpful, caring, and understanding of my situation amid their professionalism, knowledge, and over-the-top friendliness.
"This has been a life-changing experience and outcome for me. I am not only grateful for all they have done for me personally, but I commend them for the many lives they enhanced in the past and the lives they will enhance in the future. Thank you, Neil Squire Society, for enriching so many lives!"