"I Am Able to Do My Job More Confidently," WorkBC Assistive Technology Services Helps Katrina at Work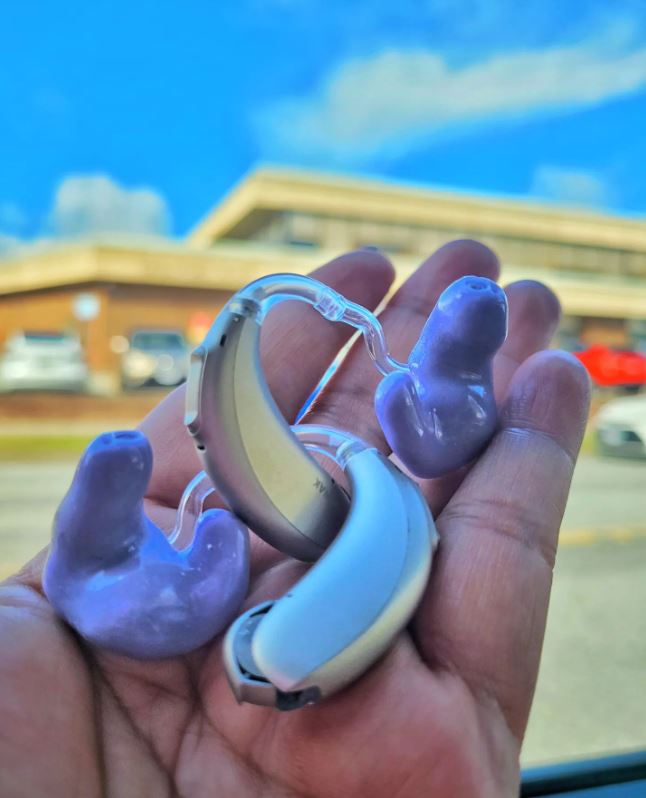 Katrina is a senior quality control lab analyst. Her team does chemical testing on products — for example, a vitamin tablet — to make sure the products are the same as advertised.
She is hard of hearing and has worn hearing aids since 1993.
"My hearing aid program sometimes fluctuates over time, or the hearing aid itself deteriorates after a few years of use," she explains. "It impacts me in my employment, because in team meetings in a big room, I struggle to comprehend people. I can hear their voices, but most of the time I could not comprehend what they have been saying."
Katrina also struggled to hear during virtual meetings over Microsoft Teams and audio calls, which have become much more common since the COVID pandemic. She needed hearing aids that could connect with her computer, so she could hear the audio directly from the source during virtual meetings.
Her audiologist at Amplifon referred her to WorkBC Assistive Technology Services for help funding new hearing aids and accessories.
"[WorkBC Assistive Technology Services] helped me, financially, in being able to get affordable hearing aids with the accessory to help me in big meeting rooms and to participate in audio meeting calls," she says.
The new hearing aids have made a big difference at work.
"I would highly recommend the ATS program to others," Katrina says. "It has helped me hear everyone more. I am able to do my job more confidently. It has helped me be more open with them. I am able to participate in meetings, be more involved. It allowed me to be more aware of my surroundings as I work in a laboratory.
"How I work with people around me changed, personally, in a good way. On how I am more confident in working with other people. I am more open in speaking with others as I know I can hear them better. As compared to before, I'd rather stay quiet as I know I would always have a hard time hearing them and would feel embarrassed on asking them to keep repeating what they said."
---
WorkBC Assistive Technology Services is operated by Neil Squire. Assistive Technology Services are available to individuals who have a work-related barrier due to a disability or a functional limitation. This may include barriers related to traveling to and from the workplace.
Questions about WorkBC Assistive Technology Services? Need help applying? Contact us: 1-844-453-5506 or info-ats@workbc.ca
Please visit www.workbc-ats.ca for more information about WorkBC Assistive Technology Services.

Tags: assistive technology, BC, Hearing Aids, WorkBC Assistive Technology Services