Liana Doesn't "Dread Coming Into Work" Anymore Now That She's Pain Free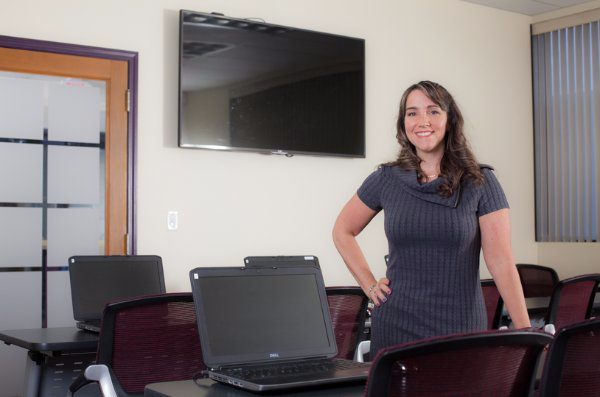 When Liana started a new position as a facilitator and community teacher, a role in which she helps people find employment, she wasn't used to long hours sitting down at a desk.
"When I first moved into this role, I was spending quite a lot of my time, probably about 80 – 90% developing curriculum or writing workbooks," she explains. "[Previously], my position involved a lot of going from client to client on the computer helping them with resumes or job searches. So, I never really spent a lot of time sitting at a desk for great periods of time – it was always up down, up down."
Liana had injured her shoulder and back in a car accident a number of years ago, which has lingering effects to this day.
"Sitting at my desk was causing me a lot of pain. Sitting for too long, my back starts to hurt, my tailbone hurts, my head even starts to hurt, and because my shoulder is pinched, it starts to pull on my neck," she shares. "I found that sitting in front of the computer was good for an hour, two hours at the most. And then I would have to get up and go for a walk."
Working in employment services, Liana already knew of the Neil Squire Society's Technology@Work program. "We often refer the program to [clients with injuries]," she explains. "So I figured I would give it a shot, see what happens."
The choice paid off. Liana was approved for the Technology@Work program, and received a sit/stand desk — allowing her to alternate between sitting and standing — and an ergonomic office chair.
"It's really great. I no longer have to stay in the same position for long periods of time, and I found that that was exactly what I needed," Liana says. "As soon as I start to feel uncomfortable, I stand up; I can move the chair – it's fully adjustable, so I can change the positioning of the chair. It's great.
"When I have a full day in the office now, I don't dread coming into work and I no longer go home in pain. So it absolutely changed the quality of my day – that's for sure."
Liana's experience with the Neil Squire Society's Technology@Work program was nothing but positive and she doesn't hesitate to continue to refer her own clients to it.
"They were all super friendly and helpful," says Liana of the Neil Squire Society's occupational therapists. "I really felt very cared for and supported. Seriously, a really great experience overall," Liana explains.
"The program is so important for people. It is just so great for people to be able to access this program because often times, they cannot work without any type of accommodations. So I do believe it is a life changing opportunity for people to be able to continue in the workforce."