Marcie's Job Becomes Easier and Safer With Assistive Technology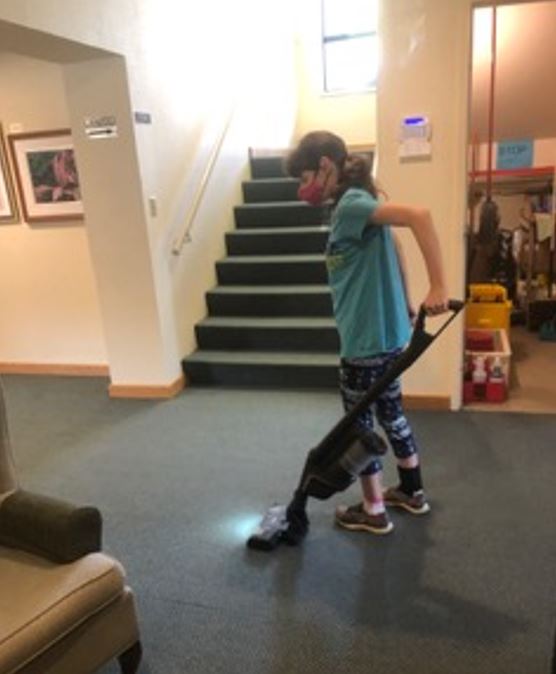 Marcie works as a custodian at a church in Salmon Arm.
Marcie had a stroke several years ago, which has left her with hemiparesis — weakness — on her right side. This made using a traditional heavy vacuum with a cord — particularly on the stairs — difficult, and even dangerous for her. The church's vacuums were unwieldy and awkward for her to use.
Her vocational counsellor at the Shuswap Association for Community Living referred her to WorkBC Assistive Technology Services.
Through WorkBC Assistive Technology Services, Marcie received funding for a Miele HX-1 Pro cordless vacuum, covering most of the cost. She also received training on how to use the cordless vacuum, in particular the different modes and how to empty the cannister and clean the filters.
The new vacuum better fits Marcie's needs and has made her workday much easier.
Vacuuming is no longer a daunting and grueling task for her — her work has become safer, more enjoyable, and sustainable.
Marcie says that she would "definitely" recommend WorkBC Assistive Technology Services to others.
---
WorkBC Assistive Technology Services is operated by Neil Squire. Assistive Technology Services are available to individuals who have a work-related barrier due to a disability or a functional limitation. This may include barriers related to traveling to and from the workplace.
Questions about WorkBC Assistive Technology Services? Need help applying? Contact us: 1-844-453-5506 or info-ats@workbc.ca
Please visit www.workbc-ats.ca for more information about WorkBC Assistive Technology Services.

Tags: assistive technology, BC, WorkBC Assistive Technology Services