"The Impact Was Immediate!" New Hearing Aid Helps Kevin Avoid Workday Fatigue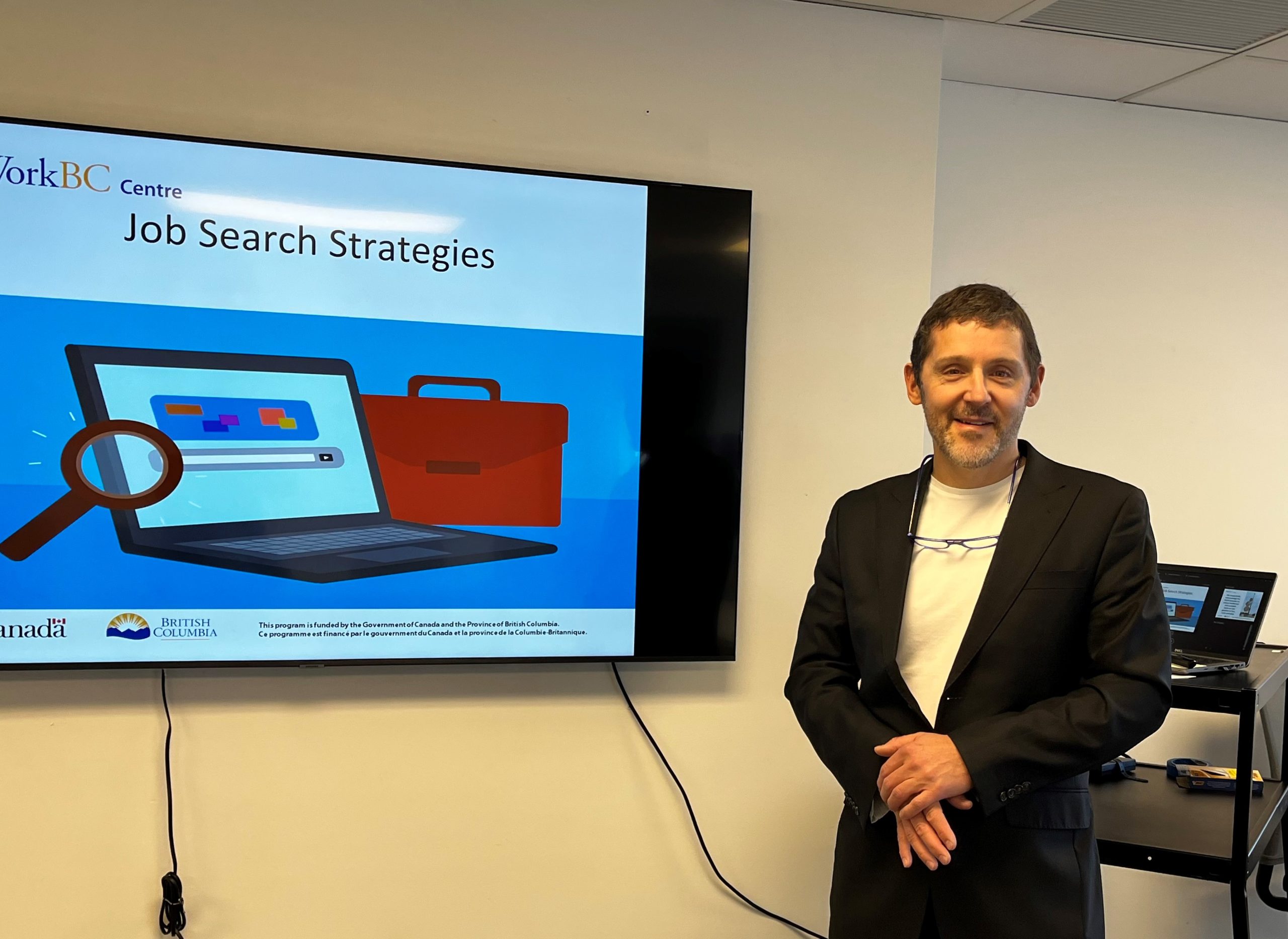 Kevin is a Workshop Facilitator with WorkBC Employment Services in Abbotsford, delivering presentations to clients in both English and French.
"Listening well is a very important part of understanding and communicating well with clients and teammates," he says.
"After experiencing significant, sudden hearing loss, I really struggled when in a group of three or more participants. Some locations are more difficult than others due to poor acoustics, echo, etc, but I was struggling to catch parts of conversations.
"In my second language, this challenge was more pronounced. When I had to work with an interpreter while facilitating a group workshop, the struggle to understand was even more difficult. I noticed that I became much more fatigued during a workday after experiencing hearing loss because I had to work so much harder to hear what people were saying. I had to ask people to repeat themselves much more often."
Working with WorkBC, he learned about WorkBC Assistive Technology Services (ATS) from an information session, and also heard from a colleague who had received help for his hearing impairment.
"My hearing loss was fortunately limited to one ear, so I required a single hearing aid," he shares. "My [WorkBC Assistive Technology Services] case manager walked me through the steps to meet with an audiologist, get my hearing tested, apply for funding support from the province, and purchase the hearing aid."
With the new hearing aid, Kevin feels more at ease during his workday.
"The impact was immediate! I was able to understand while expending much less energy. I could make adjustments using the app for different settings like a small office, a workshop room, a noisy conference room (like a job fair)," he explains. "It was most noticeable when working with an interpreter to facilitate group sessions. Since individuals I work with tend to speak at a variety of volume levels, I can make adjustments using the app to be sure I don't miss things. I find myself asking people to repeat themselves much less.
"When I experienced the sudden hearing loss, I began to wonder how I could keep doing a job that I really like if I couldn't hear properly. The ATS program has helped me get past that fear and hesitancy — I am once again very confident about my ability to perform well in my role."
Kevin is grateful for the help from WorkBC Assistive Technology Services.
"Thank you," he says. "For anyone experiencing a barrier to ongoing or new employment due to a disability like hearing loss, I highly recommend contacting the people who run the ATS program!"
---
WorkBC Assistive Technology Services is operated by Neil Squire. Assistive Technology Services are available to individuals who have a work-related barrier due to a disability or a functional limitation. This may include barriers related to traveling to and from the workplace.
Questions about WorkBC Assistive Technology Services? Need help applying? Contact us: 1-844-453-5506 or info-ats@workbc.ca
Please visit www.workbc-ats.ca for more information about WorkBC Assistive Technology Services.

Tags: assistive technology, BC, Hearing Aids, WorkBC Assistive Technology Services