WorkBC Assistive Technology Services Helps Kelly Get to Work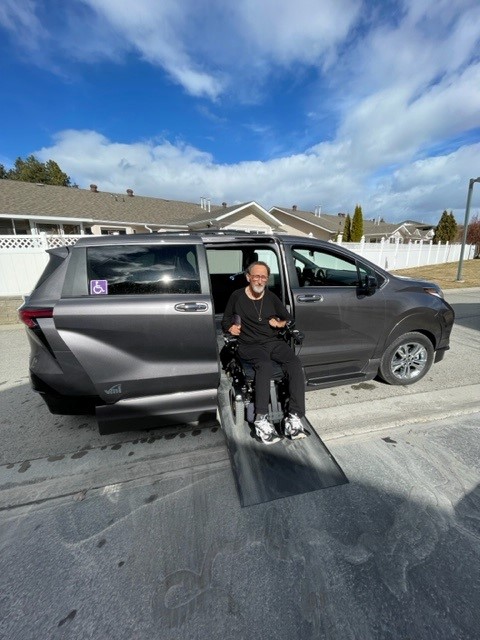 Kelly is a sales manager consultant at a car dealership in the East Kootenay.
"I appraise used vehicles for trade in purposes, wholesale vehicles to brokers, work deals with customers and salespeople. I also manage the sales department and staff issues," he says.
Kelly is a C4-C5 incomplete quadriplegic and uses a wheelchair.
"I was looking into a new wheelchair accessible van as the one I had was getting old," he shares.
Getting the right modifications for a wheelchair accessible van is quite costly. The salesman at the accessible van supplier referred Kelly to WorkBC Assistive Technology Services for help paying for the modifications. Kelly applied and was quickly approved.
"They covered most of the cost of the modifications that were needed to make the vehicle usable for me," he says.
Kelly "highly" recommends WorkBC Assistive Technology Services.
"Without it, I would not be able to get to work," he explains. "The 20 minute drive to work daily is better knowing that my vehicle shouldn't break down at any time."
---
WorkBC Assistive Technology Services is operated by Neil Squire. Assistive Technology Services are available to individuals who have a work-related barrier due to a disability or a functional limitation. This may include barriers related to traveling to and from the workplace.
Questions about WorkBC Assistive Technology Services? Need help applying? Contact us: 1-844-453-5506 or info-ats@workbc.ca
Please visit www.workbc-ats.ca for more information about WorkBC Assistive Technology Services.

Tags: assistive technology, BC, WorkBC Assistive Technology Services