Ergotron WorkFit-TL Sit-Stand Desktop Workstation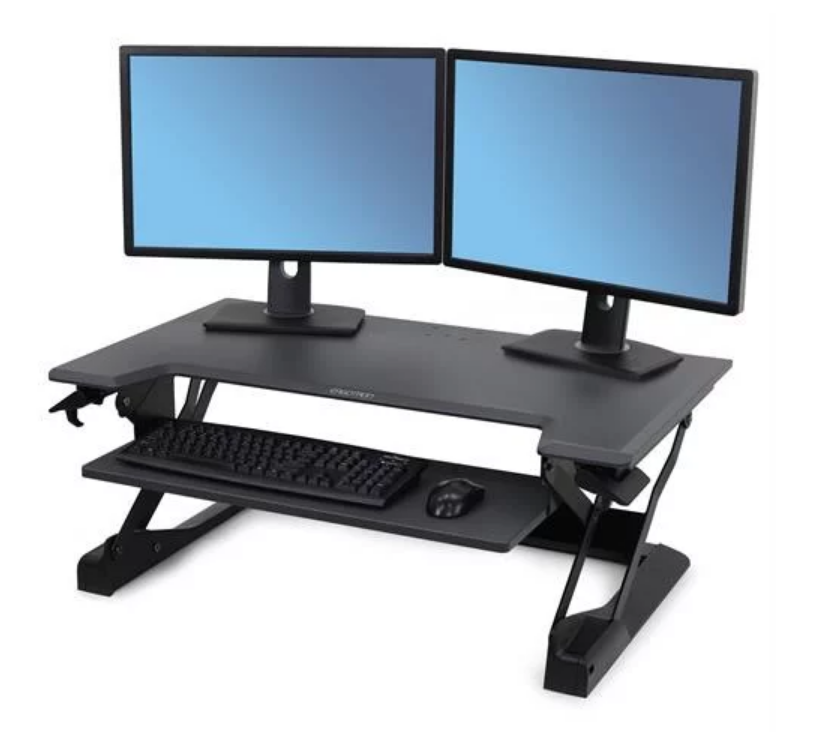 We recently received the WorkFit-TL Sit-Stand Desktop Workstation from Ergotron. A standout feature is that the keyboard tray can be positioned below the level of the desk. This is great news for shorter users who are constantly reaching up with their arms and shoulders to access their keyboard on the desk surface. The lower keyboard platform encourages proper ergonomic positioning of the upper extremities by reducing the amount of reaching required while keyboarding from a seated position.
Another beneficial feature is the ability to mount a monitor arm to the back of the unit. This detail allows the user to adjust the height and distance of their monitor for proper positioning of the neck and back when working from both sitting and standing positions. This unit also has a cable management system and optional accessories such as charging ports.
The WorkFit-TL is a larger model offering more surface area compared to the WorkFit-T. The unit arrived pre-built and was very straightforward to set up. Simply get help lifting it out of the box (remember to lift with your legs) and set it up on the desk surface of your choosing. Fast, easy, and ready to use! A great non-permanent solution for multi-user workstations or those who may need to relocate their workstation from time to time.
For more information, visit the product page on Ergotron's website.
Tags: assistive technology, ergonomics