Ideaphora: Browser-Based Concept Mapping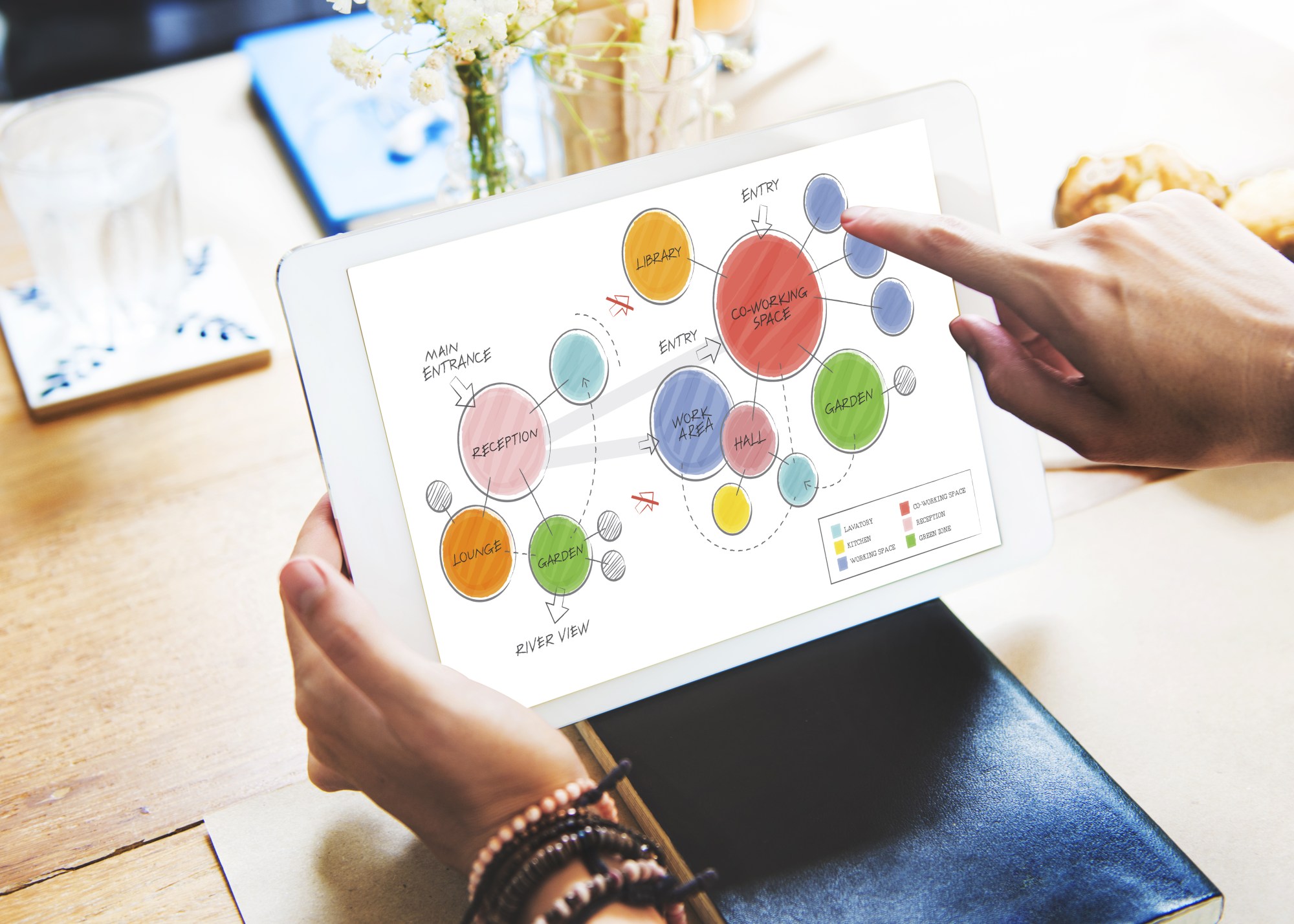 For visual learners, mind mapping is often the most effective way of breaking down complex concepts. And while there is no shortage of good options available, Inspiration Maps has typically been our top choice for this type of software. However, we've recently become aware of a new contender in the arena of mind mapping that bears discussion.
Ideaphora takes the basic concept of mind mapping software a step further by integrating media directly into the content of the diagram, providing learners with a more diverse and multi-media approach to study that supports multiple means of expression. The only downside to this approach is that Ideaphora ends up being less user-friendly than its competitors, trading simplicity for depth of content.
Let's take a closer look at some of the features which set this piece of software apart: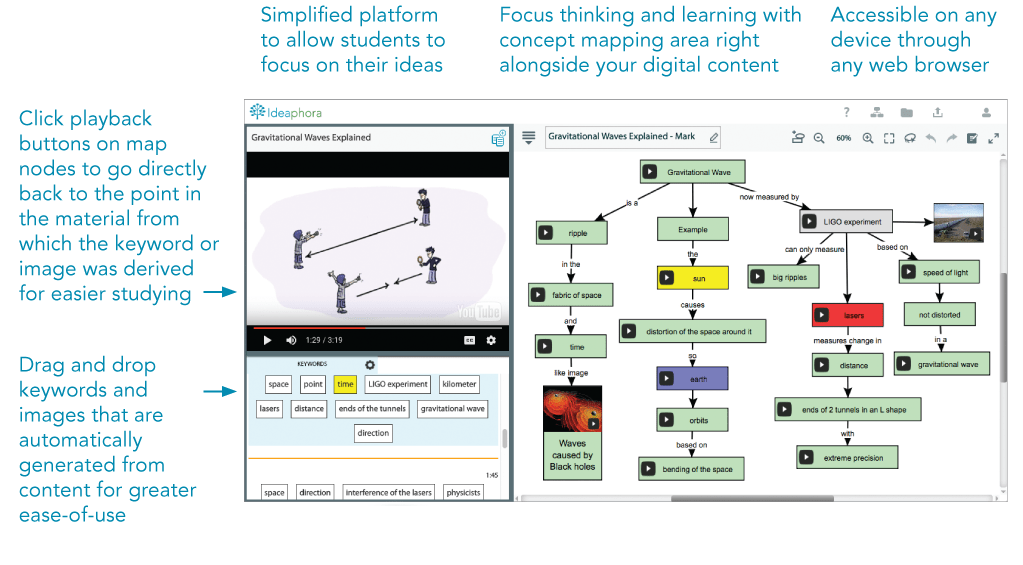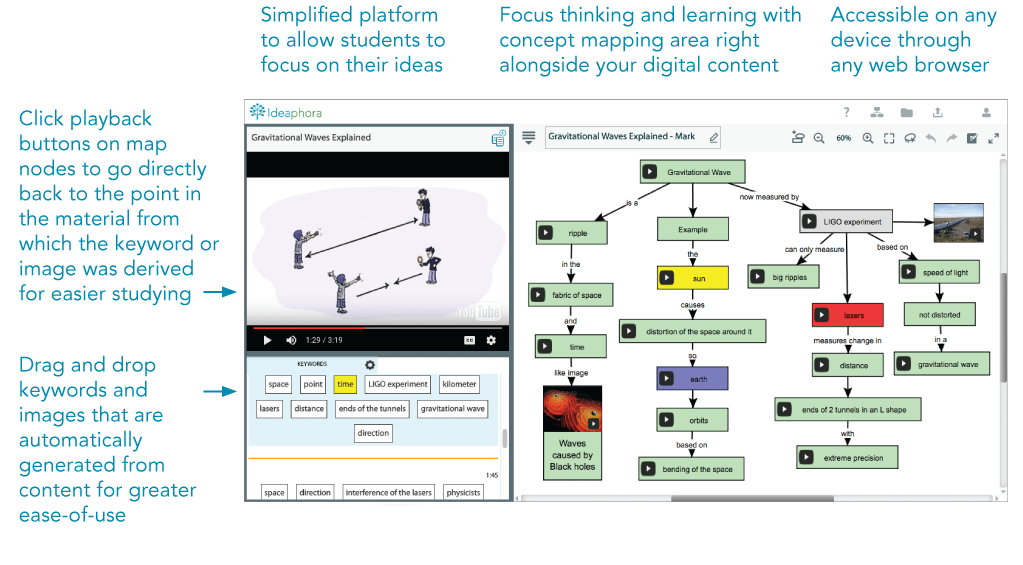 Resource Panel
This is the area which really sets the app apart. In this section, digital resources such as YouTube videos or .pdfs are displayed, and as users go through the content, corresponding keywords are highlighted in the panel below, thus converting the digital content into easily digestible snippets of text. Through this process, users are able to instantly identify the most relevant parts of the digital content being displayed.
Keyword Panel
Ideaphora automatically identifies keywords found within the digital content being displayed in the resource panel. These keywords can then be pulled into the concept map and linked to other concepts. Pressing the play button on a keyword node will take users back to the point in the content from which these key words were derived.
Public and Group Resources
Ideaphora users have access to thousands of public resources from a variety of sources such as YouTube and Wikipedia. Users can search through these resources by filtering their subject, topic, source, or, by using the search button. For instructors or group leaders, resources can be shared within a set group of individuals, allowing users to use Ideaphora as a collaborative study or classroom tool.
Extracts Images
Ideaphora also extracts images from Wikipedia pages or .pdfs. Click on the image tab and then drag them out like any other node. Pressing the play button on the node will then take users to the point in the content from which the images were taken.
Browser-Based
Because Ideaphora is a browser-based application, it can be accessed through any device that allows users to browse online, such as smartphones, tablets, and computers. And because the app is not tied to any particular device, users can easily continue where they left off by simply signing in through the Ideaphora website.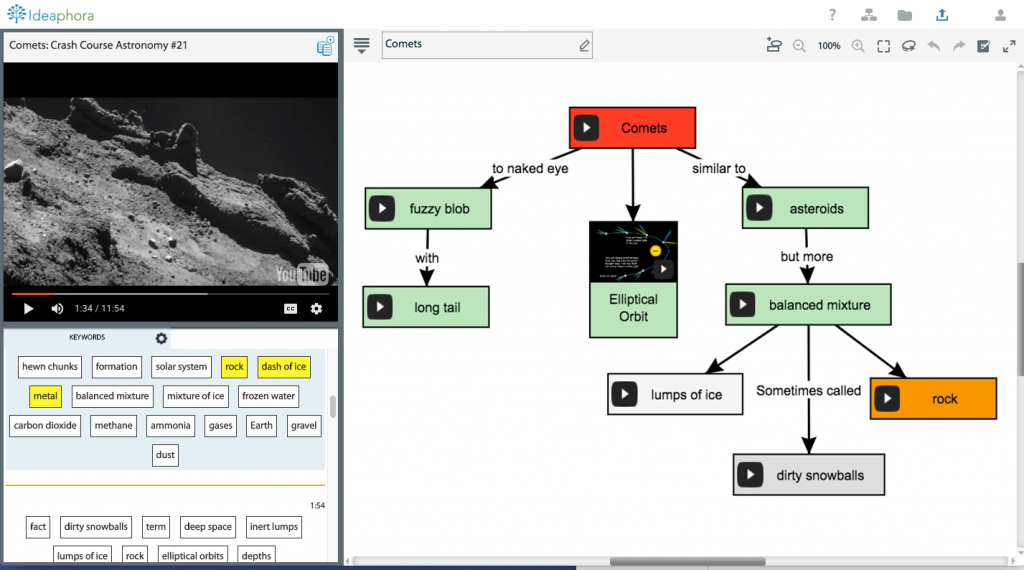 Other Options
Blank nodes can be inserted into a concept map using a wide variety of styles.
Using the undo/redo button allows users to easily move back or forward a step.
Users can add notes to a concept map. Good for adding instructions, quick notes, or anything that might take up a significant amount of space.
The adjustable workspace allows users to customize the size and ratio of their workspace
Users can zoom in on content to ensure that embedded .pdfs can be easily read.
An interactive help button encourages users to explore the software by visually identifying and explaining the key components of Ideaphora in a controlled environment.
Because this is a relatively new app, upcoming updates may affect these features. For more resources and information related to Ideaphora, click here. To access a free trial, click here.
Tags: assistive technology, AT HelpDesk