First Annual Acadia Buildathon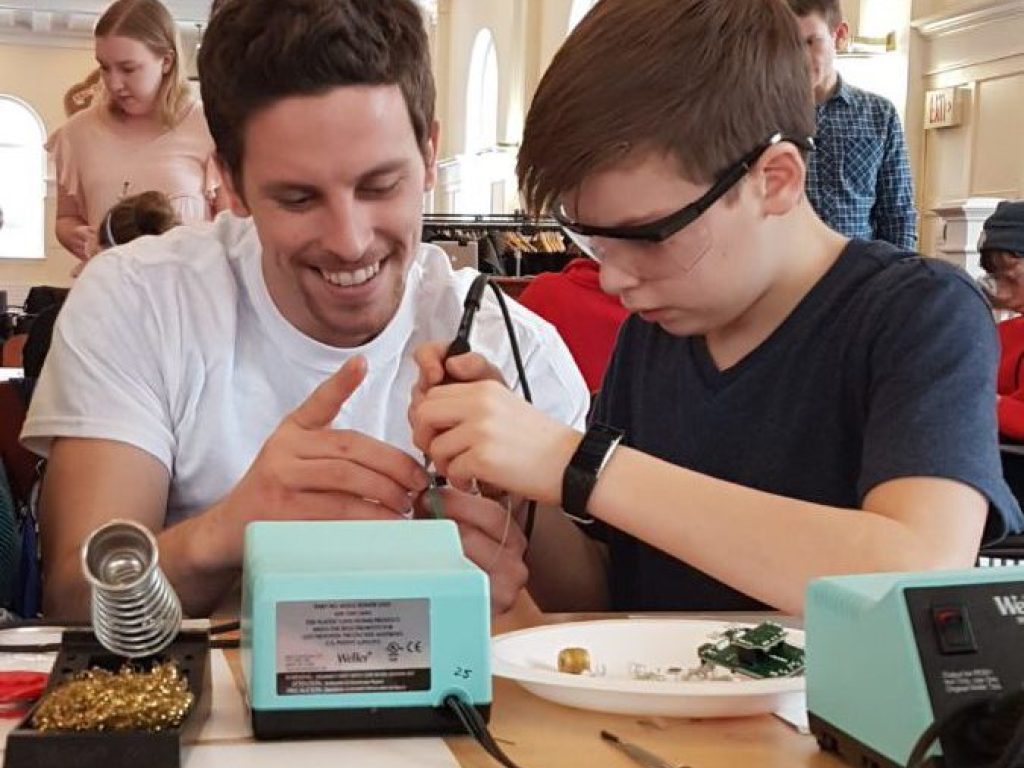 Today we sit down with Courtney Cameron, a Halifax-based Assistive Technology Specialist with Neil Squire Society, and get the inside scoop on Acadia University's first annual buildathon featuring the LipSync device.
How did this event come together?
Acadia University's Accessibility Services approached me for help in facilitating the University's first official accessibility week. I was inspired by the buildathons and Maker Faires that were taking place through our Makers Making Change initiative on the West Coast, so I thought maybe we could try to put on a similar event in the Atlantic region. Thankfully I was able to attend one of our buildathons in Toronto to get an idea of what went into the planning and what the event was like to attend from the Makers Making Change team. I knew I would need technical volunteers involved in the event, so I was overjoyed when the engineering department at Acadia stepped up and helped make this event a reality.
We also contacted Kings Regional Rehab Centre to be a part of the event. They are a residential facility that serves individuals with varying types of abilities, and they have a Learning and Technology Center with Assistive Technology consultants on staff. We were happy to have them speak at the event, and they took the opportunity to talk a bit about AT and the impact it made on lives of individuals with disabilities, as well as talking specifically about the LipSync device and how it can be used in their daily lives.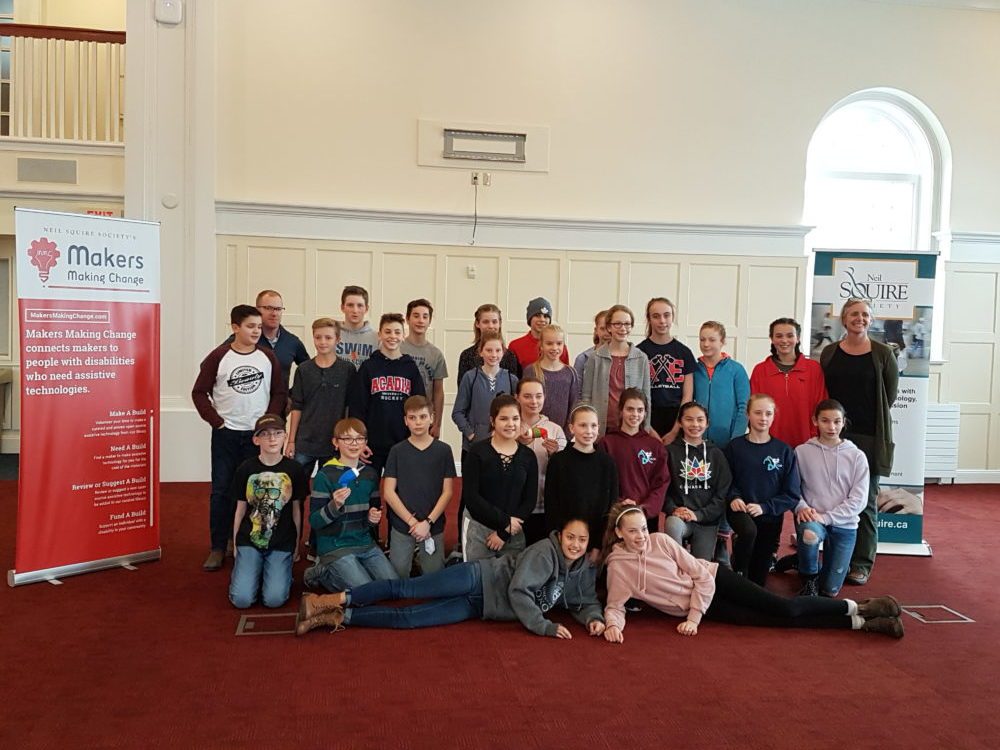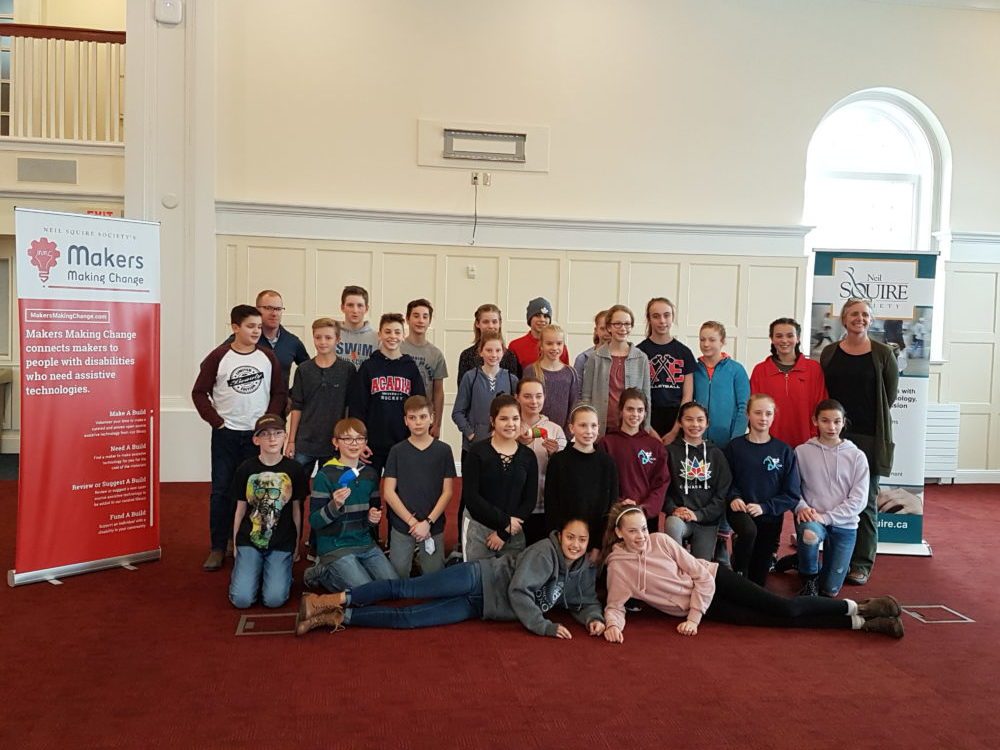 Wolfville School students
What was the response like from the community?
The response from the community was even better than I expected. In fact, after the event many students approached us asking to do more events like this in the future. Plus, the support from Acadia University's engineering department was outstanding. They saw the project as an opportunity to teach their students about the importance of accessibility, and to show the greater community that creating a more accessible world is possible. We think that can be something going forward that can catch on other schools and universities. Makers Making Change is a great way to teach and/or utilize technical skills like 3D printing and soldering, while also helping the individuals be more aware of accessibility and its importance for all.
How was attendance?
The attendance was great as we had a variety of student builders and individuals from the community. We were joined by 25 Wolfville School students (who had the day off but chose to come with their teachers) from grades 7 and 8. We also had a great turnout of student volunteers as well as about 30 engineering students from Acadia University. In total we had around 50 builders working together, with the engineering students floating around various tables mentoring students.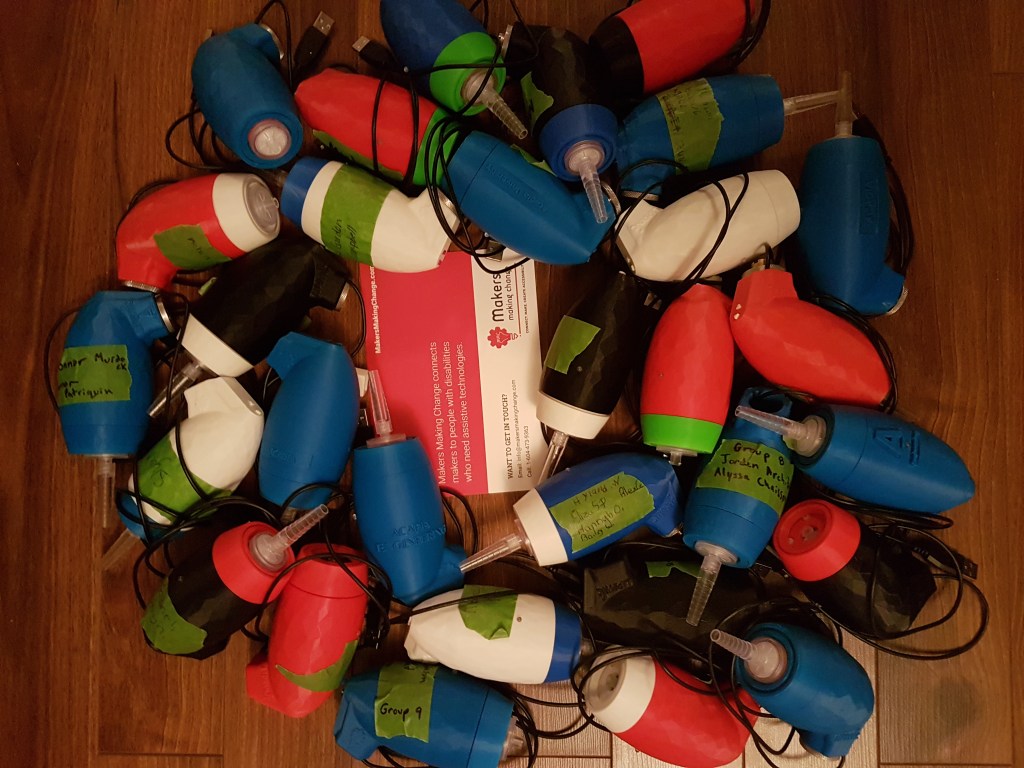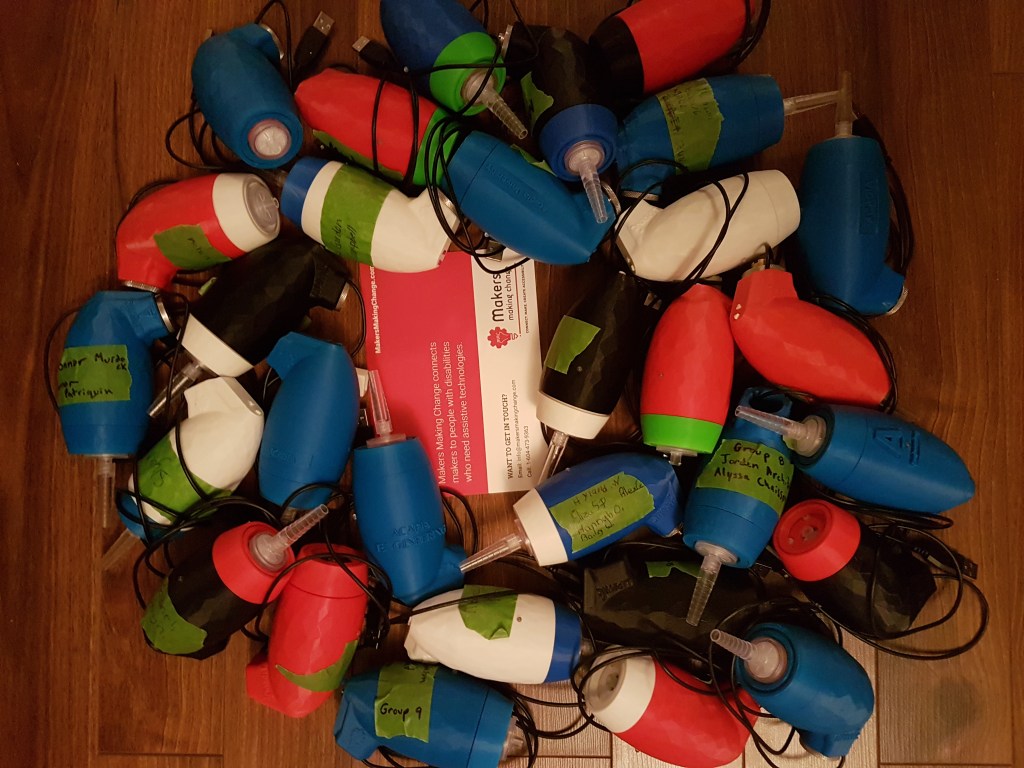 The completed LipSyncs
How many LipSyncs were created?
36 LipSync devices were created in total, with 5 of them going to people who needed them that day.
What is the process of putting together a LipSync like?
It can be a lengthy process, as 3D printing the individual components can take hours. But once you have all the pieces, the assembly process is fairly straightforward, and in fact we were surprised by how well the kids did! A build can take maybe 4 hours, at least it did for me as a very novice builder, but we had someone build one that day on their own in one hour and 57 minutes.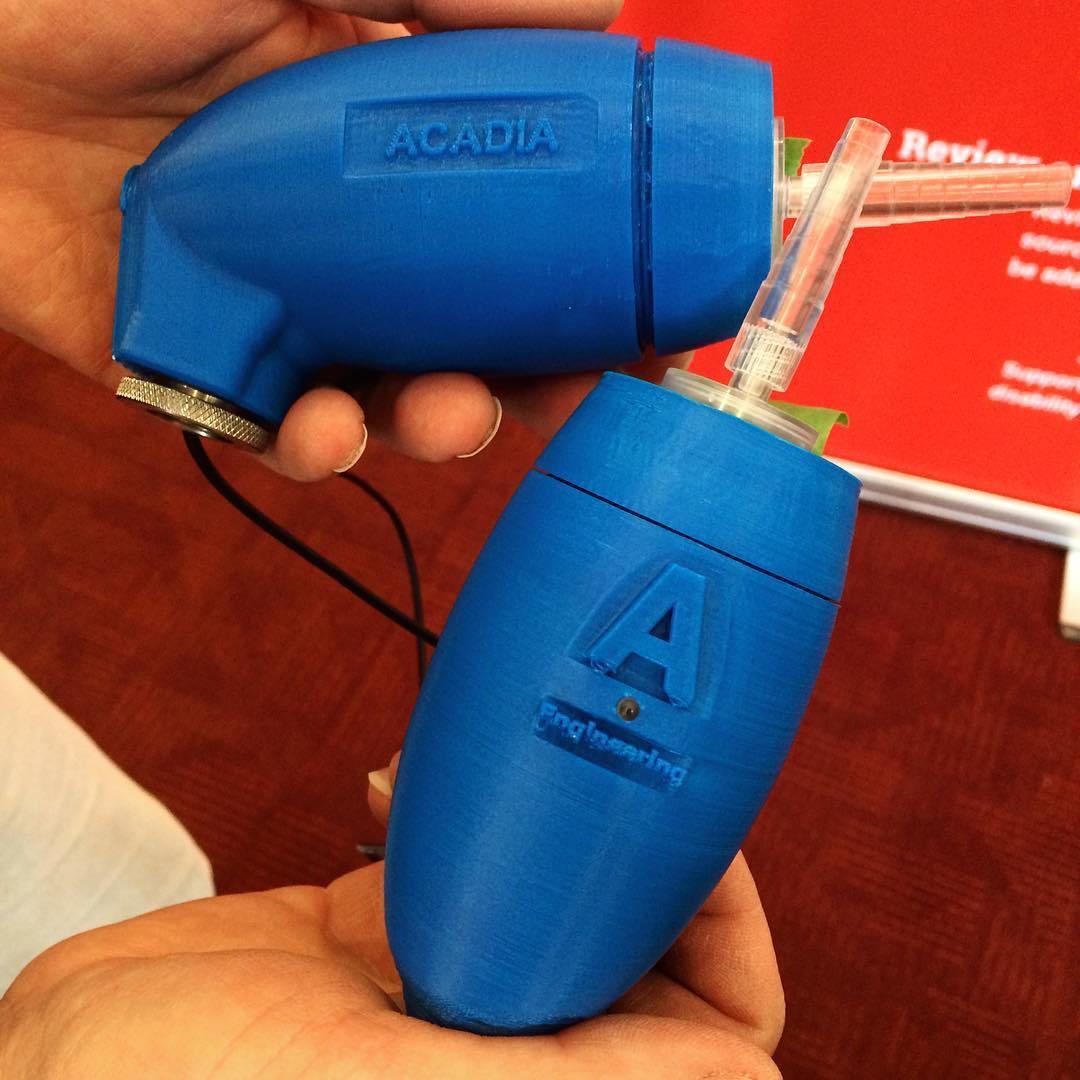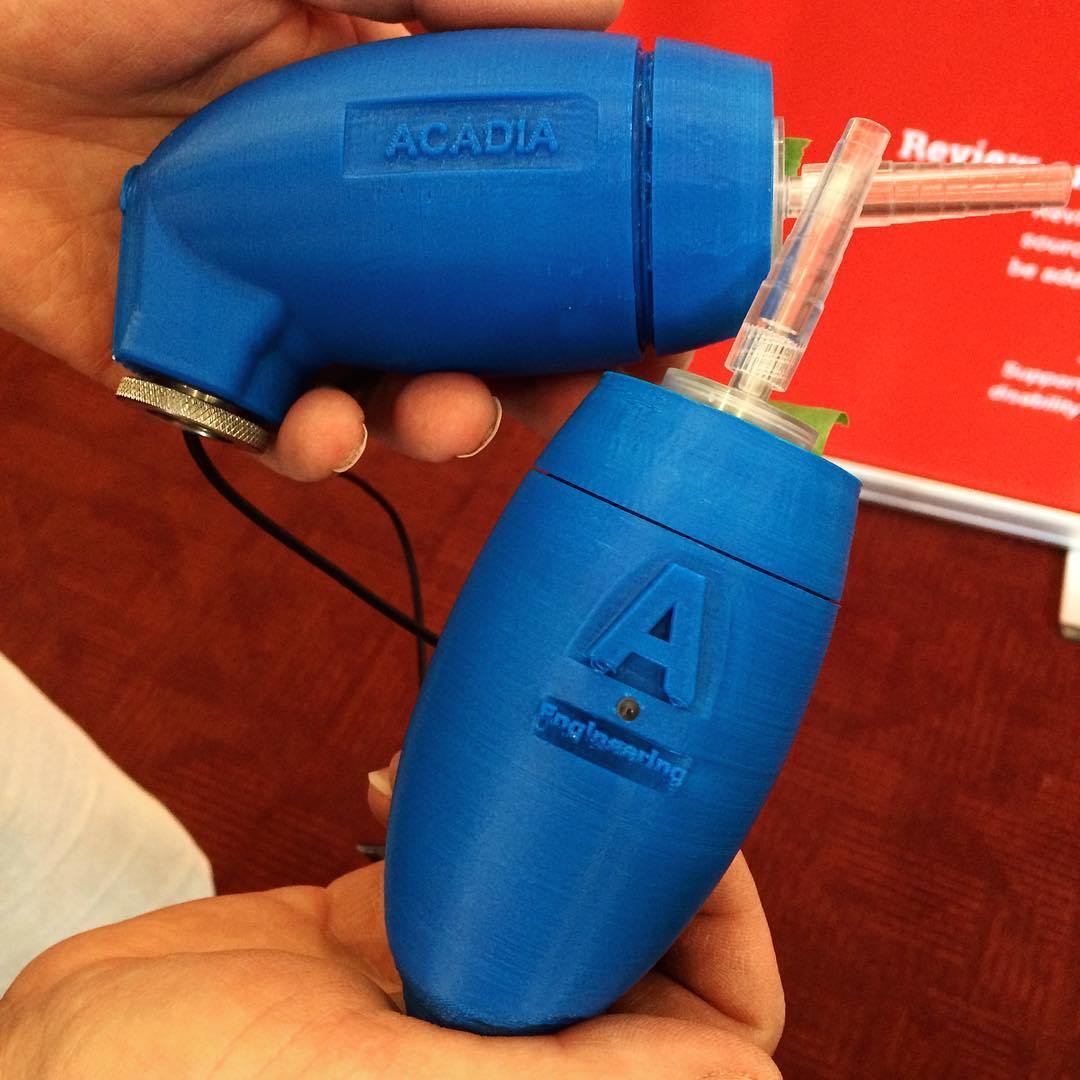 Acadia University's custom LipSync shells
Where can people go to find more information about upcoming maker events?
Atlantic Region:
Mohamed Alyousuf – Regional Coordinator of Makers Making Change (Atlantic Canada)
T 902.410.9024 F 506.453.9681
5475 Spring Garden Road
5th Floor – Suite 504, Halifax, NS, B3J 3T2
National:
Tags: assistive technology, AT HelpDesk, LipSync, Makers Making Change